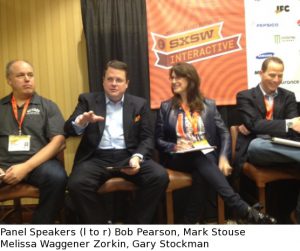 For the second consecutive year the Council of Public Relations hosted a panel discussion at SXSW Interactive, and for the second consecutive year, we played to overflow crowds.   "More Smart, Less Stupid: PR for Better Business" featured a powerhouse panel of Melissa Waggener Zorkin (Waggener Edstrom), Bob Pearson  (WCG), Mark Stouse  (Honeywell) and expertly moderated by Gary Stockman (Porter Novelli).
To find out what was discussed, you can watch this short video (shot and edited by WCG), read the blog entry in the Firm Voice, or scan the more than 300 tweets that came out of the panel at #betterbiz.
The popularity of this year's panel revealed a strong demand for more content at SXSW around reputation-oriented issues in the digital age, and the role of communications. The Council was proud to be represented by some of our industry's best minds; the discussion between the panel and the audience was indeed smart, not to mention timely, animated, and loaded with cogent analysis.
Blog Coverage
Recap from PR Newswire
Critical Mention: PR Firm CEO Suggests 'Daily Show Filter' for Clients
Huffington Post: SXSW Chronicles Anticipations — Day 1
Video Interview with Bob Pearson
Porter Novelli: The New Business Success Equation: More Smart, Less Stupid
Waggener Edstrom: "Smart" vs. "Stupid" – The Austin Version