We all know the rumors about Generation Y. On the one hand, they're talented, tech-savvy, and altruistic (see our April 14 posting). On the other, they've coddled, ambivalent and narcissistic (or so people say…).
Three years after the Great Recession broke out, with unemployment levels still looming at almost ten percent, it's worth asking: Have Generation Y's supposedly lax attitudes about work changed? And if so, how can agencies best respond to manage and retain the leaders of tomorrow?
An article published a couple of weeks ago in the Miami Herald asserts that work attitudes among Gen Y are in fact changing. Claiming that Generation Y has "swallowed a piece of humble pie," the article suggests that younger employees are working harder, are complying more with their boss' desires, and are feeling luckier just to have jobs. With almost 40% of 18-29 year olds either lacking a job or underemployed, "many of them realize that they can't make the demands for raises, promotions, time off, training and the hottest technologies during a recession that they've previously made on their employers."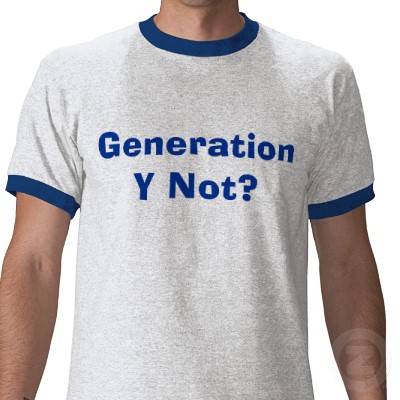 As one law firm executive quoted in the Herald piece argues, a new consciousness has dawned on younger workers that portends deeper change: "I think their concept of the ultimate safety net has shattered. I'm seeing them much more engaged. I think this was a tipping point that helped the new generation suit up for the game." It's a point similar to an argument made recently by a young blogger for Forbes, who wrote that, "The Great Recession Saved My Generation" by giving it "a unified experience forged in the hardship we have faced"
Hard data on the subject remains rare, yet recruiters seem to be seeing higher acceptance rates, a willingness to accept lower salary levels, and a willingness to accept positions below their skill set. According to one generational expert, workplace dynamics may be changing, as Gen Y is "having to understand the other three generations in order to compete with them, in order to collaborate with them at work and in an effort to be able to learn anything new."
On the other hand, one public relations CEO we queried reported that he'd "seen little change in Gen Y'ers," although their work ethic did seem to have "jumped a notch." Research released by the Pew Foundation found that Gen Y itself continued to rank its own work ethic lower than those of older generations. And a study released this past Spring found that Gen Y did in fact value leisure time more than other workplace generations. As one of the authors noted, "In the short term, the recession could reset some of Gen Y's high expectations, making them more grateful to find any job. On the other hand, the economy is only one factor in many — parents, media, friends — that influence people. We looked at data from 2008 and attitudes had not changed."
Ultimately, the picture surrounding Gen Y is still murky. Some caution against our very tendency to try to identify a generation's "character", and experts haven't even agreed how to assess the trends we commonly associate with twenty-somethings.
When we travel to different cities around the country meeting with member firms to talk about the state of the business, generational dynamics in the workplace is always a spirited discussion, and the newest entries to the workforce tend to get the most scrutiny.
The truth is, public relations is a fairly young (people) business; we constantly need infusions of new blood to make us go.  With so much still in flux, and the job market still tight, we in the public relations field would probably be best served to continue to watch younger employees closely, remain open-minded about ways we can make work more appealing to them, and to take a longer-term view and still try to win loyalty. That way, Gen Y will stay even after the jobs come back.