Research has shown that people who talk on their phones are about as cognitively impaired as someone who drives intoxicated. But what about those of us who talk while we're supposed to be listening to others?
I'm referring to the phenomenon of "simultaneous conversations," which thanks to Twitter and other social media, is rapidly becoming part of our normal, everyday work environments.
Take professional conferences. At South by Southwest this year, it seemed like everybody was thumbing their smartphones a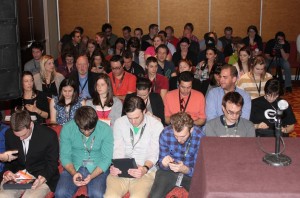 s fast as they could, trying to relay pearls of wisdom they were hearing to their followers. I, too, was guilty, and I kept thinking to myself: Is anyone really listening? Is all this great material getting through to me and to others, or are we simply too distracted by our personal screens? Are the panelists offended, or are they inured to this kind of behavior? And do audiences benefit from live tweet feeds that increasingly are shown on screens to "complement" the real discussion?
I'm not the only one asking this question, nor are simultaneous conversations only visible at conferences. Even before Twitter, simultaneous conversations had established a strong presence in the workplace in the form of emailing or texting during meetings. In fact, a 2010 survey found that an astonishing 72% of respondents engaged in side conversations during meetings and 58% checked emails.
Rather than pooh-pooh the simultaneous conversations trend, high school teachers and college professors are actually trying to harness it. As the New York Times recently reported, a small number of technology mavericks among the teaching corps are encouraging students to engage in "backchannel" conversations during class discussions. Using Twitter and other platforms, students can "comment, pose questions (answered either by one another or the teacher) and shed inhibitions about voicing opinions. Perhaps most importantly, if they are texting on-task, they are less likely to be texting about something else."
Can you imagine textin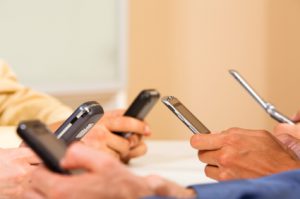 g your classmates about the plot of Macbeth while five feet away your instructor is questioning a fellow classmate about it? As the article acknowledges, most educators have a pretty hard time accepting parallel conversations in the classroom; only two percent of college professors in a recent survey reported making use of Twitter, and 50% thought it would diminish classroom discussions. Still, Purdue University has created its own technology for running parallel conversations. Others are sure to follow.
Discussions about simultaneous conversations are part and parcel of a much broader debate about the effects of technology on our lives. Is multi-tasking of any kind healthy? What is it doing to our brains? Can kids watch TV and do their homework well at the same time? Should we take breaks from technology, shutting out the media for a portion of each day or during our vacations? Is the problem simply that our meetings and other dimensions of modern life are too damn boring?
As I cast an eye over our culture today, I feel as though technology has outstripped our ability to understand it, and so over the past several years we've embarked on an ongoing process of figuring technology out, deciding what parts of it to keep, and how to place realistic limits on what in most ways are extremely helpful tools. Simultaneous conversations is simply the latest iteration of this discussion.
It's an important one, though, especially for public relations professionals. On the one hand, we're at the forefront of designing social media communications programs for clients, not to mention often operating in a 24/7 rapid response communications environment. Even more importantly, we have to live and work in offices, too. In the years to come, as today's back-channeling high school and college students enter the workplace, we're going to find our offices abuzz with multi-dimensional conversations. Social mores are going to change, as are the everyday practice of meetings. To maximize our productivity and on-the-job happiness, it's best to think through now the pros and cons of simultaneous conversations. To that end, we at the Council would love to hear your thoughts. We even promise to stop instant messaging and texting for a moment and pay attention!