Why would a PR company buy an ad agency? Isn't that backwards? This is a question I've been asked a lot in the weeks since my firm, APCO Worldwide, announced it had purchased a majority share in creative powerhouse StrawberryFrog. StrawberryFrog is a great agency with innovative leaders, a winning philosophy, iconic clients and a strong trajectory, but that is not the whole story. The rationale is much bigger than APCO or StrawberryFrog and addresses a transformative shift in the way consumers interact with corporate brands.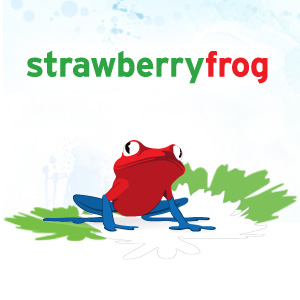 It is beyond dispute that lines between advertising and earned, owned and borrowed media have blurred, with social media serving as the great connector. The explosion of information sources and sophisticated tools that help people navigate them have fundamentally shifted control into the hands of the readers and viewers and away from professional content creators. We can no longer communicate differently market-by-market; we need to recognize the powerful links emerging across a globally connected world. Our clients understand these powerful trends. As a result, they are looking for their agencies to provide clear roadmaps through this complex labyrinth and help them achieve optimal service delivery without preconceived ideas about the channel mix.
But even this isn't what ultimately led us to pull the trigger on this deal.
The big idea here is the recognition that we can no longer conceive campaigns designed around what we want to say about our companies and brands. No matter how creative, compelling and emotional the appeal, these kinds of campaigns are increasingly bound to fail.
Communication strategies today require us to passionately seek a deep, authentic point of alignment between our brand's values and character and the interests and instincts of our various stakeholders. We must stand for something larger than ourselves, but also something that is honestly about us as well. We need to communicate with creativity and emotion about that big idea, and we must also advocate for it arm-in-arm with our stakeholders. Sometimes we will lead, but we must just as often be prepared to support, empower and follow.
Scott Goodson and his team at StrawberryFrog coined this "movement marketing" and made it their mission. At APCO, we call it becoming a Champion Brand. No matter what you call it, it is the future. And global brands looking for an alternative to traditional solutions are embracing this philosophy.
So why would the PR firm buy the ad agency? I believe one of the core competencies of the public relations professional has always been to understand those myriad stakeholder interests and how they intersect. Our base instinct is to listen first and talk second. Most advertisers, on the other hand, are best at communicating what they want to say. Through this lens, it makes total sense that the PR firm would lead. But it also explains why we were so drawn to StrawberryFrog, an agency that we found truly thinks both differently and globally.
Companies must take a bold step into a new era of aligning their goals with stakeholder expectations, and fueling trust and shared value across all audiences. The faster companies adapt, the more competitive they will become in this ever-changing global marketplace. APCO and StrawberryFrog have made the leap. Who will follow? We hope you'll join us in a conversation about #convergence on Twitter.