PR Council Partners with Après to Reach New Talent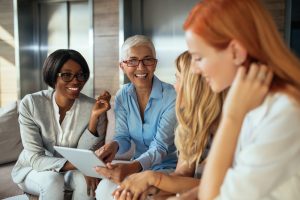 According to Après, a career site that helps mothers successfully transition back into the workplace, more than three million women with college or advanced degrees are now seeking employment. These women are an invaluable source of talent, bringing pivotal skillsets, proven track records, reliability, and life experience to their fields. Yet, many of them find it nearly impossible to get hired. Meanwhile, PR agencies are experiencing increased client opportunity and a shortage of available talent.
Introducing the Relaunch Series Certificate
In an effort to familiarize this community with PR agency careers, the PR Council (PRC) and Après are partnering on a new initiative: The Relaunch Series Certificate. The certificate was adapted for this audience based on the PRC's successful Agency-Ready Certificate program, which helps new and soon-to-be graduates polish their industry skills, gain practical knowledge and learn about exciting career opportunities at our 130+ Member firms. Both programs feature sessions taught by agency leaders at PRC member firms and cover important subject areas like client relations, research & strategy, campaign creation, data & analytics, earned media, and digital media.
Accessing this new talent pool
After earning their Relaunch Series Certificate, participants are encouraged to upload their resume to the PRC's Career Portal, where our 130+ member firms search for candidates and post job openings at their agencies. Through this partnership, PRC member firms can also post job openings on the Après job board at a reduced PRC partner rate. Please email us at PRCTeam@prcouncil.net for more information on reduced rates.
More about Après
Experts in its field, Après is dedicated to helping return-to-work mothers navigate career and caregiving. While the organization creates a supportive community full of resources and identifies companies welcome to resume gaps, Après' professional network is teeming with experts who help women organize their job searches, expand their awareness of career possibilities, build confidence, and prepare for interviews.