About the episode:
Diversity & Inclusion (D&I) is an ethical and business imperative. As an industry, we have a responsibility and accountability to make this a priority. Check out our latest podcast episode featuring Soon Mee Kim, Executive Vice President, Global Diversity & Inclusion Leader of Porter Novelli and Helen Shelton, Senior Partner of Finn Partners. As leaders in the D&I arena, they shed light on the inherent need to
take action to better our organizations.
About Soon Mee Kim:
Soon Mee Kim is executive vice president and Global Diversity and Inclusion Leader for Porter Novelli, part of the Omnicom Public Relations Group. A proven leader and creative problem-solver, Soon Mee is responsible for evaluating, developing and implementing initiatives that promote diversity, foster inclusion, and accelerate innovation. Her forte is in uncovering and articulating the reasons why people should care about complex issues. Formally and informally, her favorite roles are that of mentor, coach, and student.
About Helen Shelton:
Helen Shelton is a communications strategist with particular expertise in creating impactful platforms and programs that address the needs and interests of diverse audiences.  At Finn Partners, Helen oversees the agency's Diversity and Inclusion program, Actions Speak Louder – Partners for Diversity.  Helen has worked tirelessly in the industry not only to responsibly promote client products and services, but also to advance important causes – ranging from adult education and housing, arts and culture, voter registration, disparate unemployment, and health awareness initiatives.  
Named one of the 25 Most Influential Black Women in Business by The Network Journal magazine, Helen has also served as a Board Member of the Public Relations Society of America's New York Chapter, holding the position of VP of Marketing for two consecutive years. She is currently co-chair of the Strategic Advisory Board of the Black Public Relations Society of New York and co-lead of the PR Council's newly-formed Diversity Community. In her spare time, Helen enjoys Italian cinema and literature. A native New Yorker, Helen is a graduate of Dartmouth College and holds an M.S. degree in journalism and communication from Boston University, where she was an RKO General Scholar.
About the Host: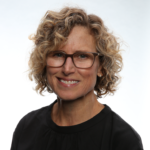 Kim Sample focuses on helping the PR Council's 100-plus member agencies thrive and elevating the PR profession overall. Prior to joining the PRC in August 2018, Kim was the founder/CEO of Emanate, a $35 million, 100+ person international marketing communications agency. During her tenure Emanate was named PR WEEK Agency of the Year and CRAIN'S Best Places to Work in NYC, and the team's work for clients was recognized with numerous industry awards. Kim also worked at Ketchum, Marina Maher Communications and Golin earlier in her career, and has served Fortune 500 clients across a number of industries, including financial services, travel and hospitality, CPG and consumer electronics.
For more information or to listen to other episodes of the Agencies of the Future podcast, click here.