About the episode:
With news coverage about Bayer calling into question the most basic PR practices, trust has never been more critical for an "Agency of the Future." In this episode, we explore what trust means in business, including rapidly changing consumer expectations, with Matt Harrington, Global COO of Edelman and former Chair of the PR Council. He shares key trends from Edelman's Trust Barometer, which is in its 19th year. Listen to learn why trust is key to the future state of relationships and the most important "license to operate" issue for our agencies.
About Matt:
Matthew Harrington is the global chief operating officer at Edelman, an industry-leading communications firm that partners with businesses and organizations to evolve, promote and protect their brands and reputations.
In concert with this overseeing global operations, Matthew advises leaders of some of the world's largest and most complex companies on corporate positioning, reputation management, crisis communications, merger and acquisition, and IPOs. His articles on trust and executive leadership have appeared in the Harvard Business Review, Fortune and other leading business publications.
Matthew's nearly 30-year career at Edelman has encompassed work for hundreds of clients across nearly every industry sector. His previous leadership roles at Edelman include president of the U.S. and president of the Eastern and Western regions. He also led the initiative to create Edelman's Code of Conduct.
A graduate of Denison University, Matthew serves on its Board of Trustees, as well as on the boards of the Interactive Advertising Bureau (IAB) and the Classic Stage Company, and he is a member of the Board of Advisors of the University of Southern California's Annenberg School of Communications. He also is an advisory member of the Marketing 50.
About the Host: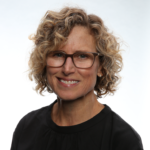 Kim Sample focuses on helping the PR Council's 100-plus member agencies thrive and elevating the PR profession overall. Prior to joining the PRC in August 2018, Kim was the founder/CEO of Emanate, a $35 million, 100+ person international marketing communications agency. During her tenure Emanate was named PR WEEK Agency of the Year and CRAIN'S Best Places to Work in NYC, and the team's work for clients was recognized with numerous industry awards. Kim also worked at Ketchum, Marina Maher Communications and Golin earlier in her career, and has served Fortune 500 clients across a number of industries, including financial services, travel and hospitality, CPG and consumer electronics.
For more information or to listen to other episodes of the Agencies of the Future podcast, click here.