In this episode:
If the mention of this topic gives you a stomachache, then you're in the right place. In this episode, Kimberly Eberl, CEO of Motion talks about the techniques she employs to win back an unhappy client, including how to identify some of the early warning signs and what it means to demonstrate "nirvana listening" skills.
About Kimberly:
Kimberly Eberl is the Founder and CEO of Chicago-based marketing services and PR firm, Motion.
She and her entrepreneurial-minded team represents brands such as Serta, The Home Depot, Whirlpool, Simon Property Group, Tractor Supply, Gold Eagle, Cancer Treatment Centers of America and more.
Prior to opening her firm, Kimberly worked at Ogilvy PR & Weber Shandwick. Kimberly has a B.A. in public relations from Marquette University. Her track record also includes completing more than 110 races of various distances, seven of which were marathons.
She's a member of the Color Marketing Group, Public Relations Society of America, the Publicity Club of Chicago and PR Council. She is also an advocate of the MS Society.
About the Host: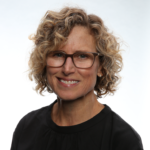 Kim Sample focuses on helping the PR Council's 100-plus member agencies thrive and elevating the PR profession overall. Prior to joining the PRC in August 2018, Kim was the founder/CEO of Emanate, a $35 million, 100+ person international marketing communications agency. During her tenure Emanate was named PR WEEK Agency of the Year and CRAIN'S Best Places to Work in NYC, and the team's work for clients was recognized with numerous industry awards. Kim also worked at Ketchum, Marina Maher Communications and Golin earlier in her career, and has served Fortune 500 clients across a number of industries, including financial services, travel and hospitality, CPG and consumer electronics.
For more information or to listen to other episodes of the Agencies of the Future podcast, click here.