In this episode:
Why do leaders need empathy today more than ever? In this episode, we speak with Tricia Ewald, Managing Partner at ICF Next, as she describes how leaders can bring empathy to a team or organization, why empathy at work means a balance between compassion and objectivity, and how to recruit for empathy.
About Tricia:
There's no stopping Tricia. Named to PR Week's "Champions of PR" and "40 Under 40″ lists from PRWeek and Crain's Chicago Business, Tricia helps clients achieve their business goals through compelling communications strategies. As the leader of ICF Next's creative engagement team, her experience spans audiences, industries, and client types, and includes a lengthy list of national and global awards for client work.
About the Host: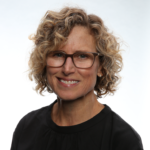 Kim Sample focuses on helping the PR Council's 100-plus member agencies thrive and elevating the PR profession overall. Prior to joining the PRC in August 2018, Kim was the founder/CEO of Emanate, a $35 million, 100+ person international marketing communications agency. During her tenure Emanate was named PR WEEK Agency of the Year and CRAIN'S Best Places to Work in NYC, and the team's work for clients was recognized with numerous industry awards. Kim also worked at Ketchum, Marina Maher Communications and Golin earlier in her career, and has served Fortune 500 clients across a number of industries, including financial services, travel and hospitality, CPG and consumer electronics.
For more information or to listen to other episodes of the Agencies of the Future podcast, click here.