Everywhere we look today, from the streets of Cairo to Zuccotti Park, we find evidence of social media's power to galvanize people and effect change. But what does social media's grass-roots organizational potential mean for companies and brands? How can companies best mobilize consumers around their brands? And how should they conceive of the broader marketing challenge today?
A distinguished group of experts and public relations leaders reflected on these questions at this year's Critical Issues Forum. Among the many important themes that emerged over the course of several sessions, one emerged with particular force: Get Involved!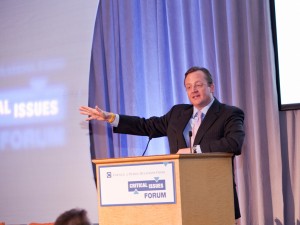 Ours is an age of daunting problems, but also of inspired activism. As former Obama Administration Press Secretary Robert Gibbs noted in the Forum's opening session, during the last presidential election nobody could have even begun to imagine the downfall of repressive regimes in the Middle East. Today, companies have no choice but to involve themselves in intense, continuous, two-way discussions with stakeholders, not merely listening but taking responsive action. "We need to be involved each and every day in the conversation," Gibbs said. "We have to be growing our brands and listening to people we are trying to engage. We can't bury our heads in the sand anymore."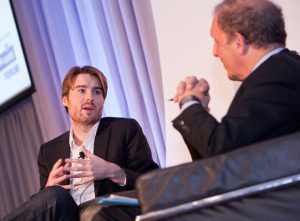 Pete Cashmore, founder of Mashable, contended this new world represented great opportunity for public relations: "Marketing and PR are in a great place. The role is changing but there is still a bigger role than ever. It used to be that there were a few distinct publishers reaching certain audiences. Now there are thousands of gatekeepers; it becomes a different mission to reach people who command the attention of specific communities."
Throughout the Forum, participants expressed optimism about what involvement in social media could bring for consumers and brands as well. Cashmore enthralled the audience with his personal story of growing Mashable from humble origins into a highly influential media company. "A couple of years ago, there was only a theory about whether social media would genuinely allow us to empower people. Now we've seen the change that has happened so rapidly across the world. Give this a decade and you'll see the energies unleashed by social media everywhere in society." Acknowledging legitimate concerns that exist around issues such as privacy, Cashmore cited the liberating power of communication generally: "Communication is great. It makes people more tolerant and understanding. Destroys prejudice, breaks down boundaries. That's why we think it's great to spread these [social media] tools."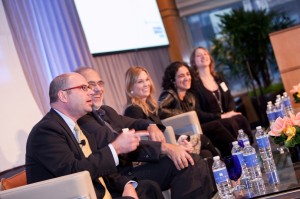 Babson College President Len Schlesinger pointed to the still-mysterious nature of social media and challenged a panel of client-side experts to define just how revolutionary the technology really is. SAP Global Media Relations Director Evan Welsh acknowledged that online relationships can be shallow, yet he noted that SAP had successfully mobilized 2.8 million users to become members of its community—no small achievement. "You have to be where your consumers are," agreed Gannet's Chief Marketing Officer Maryam Banikarim, articulating a sentiment held by many on the panel and in the audience. Target's Dustee Tucker Jenkins described the great premium the retail giant Target placed on listening through social media, and noted that in some cases Target's communications team can rely on community members to actively defend the brand from detractors.
Petfinder.com's Associate Producer Jane Harrell related that the basic phenomenon of mobilizing people on behalf of a cause wasn't new, but "what social media allows us to do is mobilize thousands of 'friends' we may not know well, instead of ten or fifteen closest friends whom we might know very well." SAP's Welsh concurred, observing that "thanks to social, we can operate at a true global level, 24/7. We weren't able to do that a couple of years ago."
Getting involved in discussions with consumers and helping consumers get involved doesn't come without risk. In the view of ESPN's Gary Hoenig, the potential always exists that consumers will punish the brand for committing a visible wrong; one of the challenges in social media is knowing when and how to intervene. "Hyper responsiveness is an issue. When users are bombarding us with criticism, how do we know when to engage, and when not to? We can't always let our community handle it. Sometimes we need to step in." Gibbs reminded attendees that customers are firmly in control. "They have an inordinate amount of choices. They need something unique in terms of communication, and they require you to listen. But that's the best part of the relationship. It requires you to also be responsive to what you hear. Institutions that fail to listen and react aren't going to exist anymore."
Whether or not involving ourselves in community-building turns out for the best, panelists and audience members seemed united in seeing it as inevitable, and also as a process still in its nascent stages. Babson's Schlesinger wrapped up the day and captured its forward-looking tone by exhorting public relations professions to continue their experiments with social media and related technologies: "There's a lot for us to learn in an environment where you can only learn by experiencing it. Instead of sitting around and debating and hypothesizing, go out and do something and learn from the experience."
A rousing message. And one you hear a lot of these days in our industry.
← Back