If it has become fashionable to assert that our nation's future rests with innovation, business leaders are likewise looking to innovation as their companies' chief source of competitive advantage going forward. Price Waterhouse Cooper's annual CEO survey found that respondents are "placing a higher premium on innovation today," showing special interest in the creation of new products. "It's high on the agenda in virtually all industries, including industrial sectors such as metals, chemicals, and manufacturing."  Another survey of CEOs found that 98% regarded creativity—a skill or competency vital to innovation—as "among the top elements they're looking to harness to advance their business in the year ahead." And a survey of manufacturing executives by the Economist Intelligence Unit found that almost four in ten viewed "innovative processes" as one of the "three greatest assets the U.S. manufacturing industry has over emerging markets." The report elaborates: "Top executives value the original design of durable, well-functioning objects and inventive improvements to factory operations"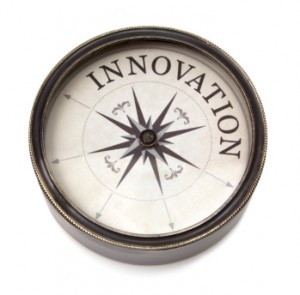 When it comes to nurturing and sustaining innovation, public relations firms are playing an important role. Logically, social media comes first to mind. With clients seeking to engage more deeply with customers and even to mobilize customers in the development of new products and services, firms are helping companies mobilize communications technologies to forge strong customer bonds.  In some cases, firms are helping clients overcome reluctance inside their companies to change, providing case studies that illustrate how powerful communications via Twitter, Facebook, and other social media tools can be.
Yet this isn't just a social media story. Firms are also serving as partners to clients in the creation of innovative business strategies. They are also boosting change initiatives by linking them up with employee communications. Years ago, marketers didn't consider the employees as brand ambassadors. Now, more companies are making employees aware of the marketing strategy because they realize that employees are out there everyday talking to customers. Public relations firms are also crafting the messaging that helps develop employees as internal advocates for specific process or internal changes. And when companies want to nurture creativity in their workforce, they are increasingly looking to firms to bring in outside thinking and to run brainstorming sessions and creativity clinics.
Another way firms are adding value is by helping clients assure that all parts of the external marketing mix align well with new strategies, initiatives, or processes. Often Corporate Social Responsibility programs are distinct from company goals; public relations firms are working with clients to integrate these initiatives to support broader programs of change. As Tara Greco, Senior VP at APCO Worldwide, notes, "It's important to not only understand what you do well but that your corporate responsibility strategy grows, adapts, and changes as your business grows, adapts and changes. It's all part of reputation management. As your stakeholders shift and change, and their expectations shift and change, you need to be able to change with them."
Finally, firms are partnering with clients to help bring innovations to market. In regulated industries such as health care, firms are helping government agencies understand how innovations fit into the existing regulatory framework. They are also mobilizing armies of thoughts leaders—bloggers, influencers, reporters, academic experts and the like—to get behind innovations and ensure their success. This brings us back to social media, since so many thought leaders these days are online and susceptible to direct contact. The days when the media served as a gatekeeper to influencers are well behind us.
If public relations firms are natural partners for companies seeking to go above and beyond the status quo, this is not least because many firms are increasingly pushing themselves to do exactly that. This blog has profiled several standout firms that have re-imagined parts or all of their business models—GolinHarris, which reorganized project teams and did away with conventional industry titles; Peppercom, which infuses comedy into its culture; Ketchum, whose Mindfire program has allowed clients to tap into the thinking and creative talents of bright young students around the world; and Taylor, which transformed itself from a conventional sports marketing shop into a full-fledged strategic marketing communications firm.
Of course, the bulk of innovation now taking place within firms is more incremental—but nonetheless critically important. In 2011, Bliss PR expanded beyond its conventional focus in areas like financial services, accounting and law to healthcare, launching its specialty practice Blisshealth. According to Managing Director Meg Wildrick, "there's no sector we can think of where the ideas are more complex and the pace of change more dynamic." As MSLGROUP's Renee Wilson reports, her firm has recently launched a new boutique specialty called BE SPOKE, serving clients in the beauty and luxury categories. That's in addition to innovations like a mobile careers site for prospective employees and mobile campaigns for clients like DressBarn.
We want to get the word out about our industry's capacity to serve as valuable partners to change. We also need to make sure that we and our clients remain committed to the sometimes painful journey that is innovation. As our industry's own success stories remind us, it is possible to reap the benefits of change in our organizations, both internally and in the products and services we sell. Yet innovation is hard work, and it requires action, not merely talk, a point developed with great clarity in Len Schlesinger's book Action Trumps Everything. So often we find that clients who want to innovate compulsively test the innovation, to the point where they remain mired in the status quo. Internally, firms sometimes spend time contemplating action and then not making any real attempt to invest in implementation. Our collective job is to discipline ourselves, deploying with even greater confidence our skills, talents and imaginations so that together we can continue do things differently—and better.