It's been a few days since my return to the U.S. from Davos, Switzerland, where I participated in the 2016 World Economic Forum Annual Meeting as a delegate and panelist. The focus of this year's meeting was "Mastering the Fourth Industrial Revolution," and it truly resonated with delegates, sparking intense conversations. The thirst for more information, more examples and more predictions was palpable. WEF founder Klaus Schwab characterized the Fourth Industrial Revolution as one of a fusion of technologies that blurs the lines between the physical, digital, and biological spheres. This will be the impetus behind transformations in every aspect of our lives, from government to business to economics to interpersonal relationships.
So, with all these transformations on the horizon, what issues have bubbled to the surface? I've taken some time to reflect on the major themes discussed this year, and what they mean for us not only as leaders, but also specifically as communicators. Here are my top six takeaways, with important comments from some of WEF's most influential speakers.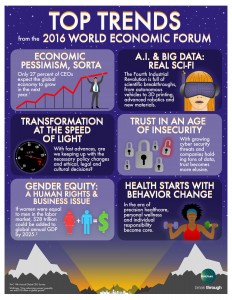 Economic Pessimism, Sorta. While there was considerable discussion about the instability of the global economy, important decision makers like the IMF's Christine Lagarde expressed modest optimism. China's slowdown was certainly cause for concern, yet British MP George Osborne was quick to point out that even at the current (slower) growth rate, by the end of this decade, China will add an economy equivalent to that of Germany. Another big topic in this category was that of the "Brexit," or Britain's proposed exit of the European Union. Most speakers on this topic believed such a move would destabilize the economy, and that Britain would exert more leverage and power if they remained with the EU. The economic implications of the refugee crisis also was hotly debated, and France's Prime Minister Manuel Valls went as far as to say that accepting all the refugees into Europe would totally destabilize society.
I & Big Data: Real Sci-Fi. What we once thought the stuff of movies ("Terminator," anyone?) is now real-life. Our individual healthcare is impacted by Big Data, and, according to our MasterCard client, Ajay Bhalla, our cars will very soon be communicating with each other. While in 1990 it took 13 years and more than $1 billion to sequence the first human genome, today it costs about $1,000 and takes just a few hours. In Davos I "met" a robot named HUBO, developed by the Korea Advanced Institute of Science and Technology. Robots like this may represent the future of disaster recovery and fill other critical needs, but there also was much discussion on not if but when robots go to war. Specifically, if we can't teach a robot the rules of war and how to empathize, what will the (very scary) outcome be? As our world is adopting new technologies, our industry has a unique opportunity to help influence policy changes and ensure that we are keeping pace with the necessary ethical, legal and cultural decisions that are heavily impacted by this new industrial revolution.
Transformation at the Speed of Light. Meg Whitman, CEO of HPE, (*Interfuse client) said: "The future belongs to the fast. If you are not moving at the speed of light, then the world is moving past you." Ruth Porat, the CFO of Google's parent company, Alphabet Inc., echoed at a later session: "If we're not constantly pushing the frontier, we are not creating value for the long term. If you're not disrupting your business, someone else will disrupt your business." So the question is, can legacy companies take part in the disruption, or will they fall at the feet of the new frontier companies like Uber, Netflix and AirBnB? Are we disrupting our own firms fast enough to deliver in the digital age?
Trust in an Age of Insecurity. At one session I attended, Salesforce CEO Mark Benioff told a story about how the equipment he uses at the gym recognizes him when he uses it, as an example of the new level of connectivity. But, he added that "the new level of connectivity requires more trust." With companies accessing our personal data 24/7, those companies are held to a much higher standard to keeping that information secure and only using it for the right reasons. A recent WEF report found that cybercrimes cost the global economy an estimated $445 billion, higher than many economies' national incomes. The IMF's Christine Lagarde and Sir Tim Berners-Lee, inventor of the World Wide Web, pointed to two key factors in maintaining trust in an insecure age – communication and transparency. Reputation management will become more important as trust becomes more scrutinized.
Gender Equality: A Human Rights & Business Issue. The topic of gender equality is now one that is discussed on the main stage and not just in quiet hallway conversations, but with women representing only 17.8 percent of the meeting's participants this year, it is clear that we have a long way to go to achieve true gender parity. A staggering statistic unveiled in a WEF report was that it will take 118 years to close the salary gap between men and women at the current rate of change. And while we should all agree that this is deplorable, morally speaking, a number of panelists spoke about the economic implications of such injustice. In fact, a McKinsey study found that if women played an identical role in labor markets as men, as much as $28 trillion could be added to global annual GDP by 2025. Although our industry is filled with many intelligent, high-potential women, we still have pay equity issues to overcome and we need to be doing more to advance women to leadership roles.
Health Starts with Behavioral Change. This year's agenda at WEF had more panels on healthcare than ever before. And the interesting dichotomy I noticed was one of two sides of the healthcare coin – on one side, high-tech health and precision medicine, and on the other, wellness, mindfulness and holistic health. Bernard J. Tyson, CEO of Kaiser Permanente, discussed the growth of tele-health within his company, stating that last year Kaiser Permanente completed 26 million secure e-visits, which were rated highly by patients. At the same time, Paul Bulcke, CEO of Nestle (an Interfuse client), discussed how good nutrition can create health, and how Nestle is fortifying products, teaching children about nutrition, and working to make nutrition a more explicit part of the health discussion. Kathy Hudson, deputy director for science, outreach and policy at the National Institutes of Health (a Ketchum client) pointed out that with 30 percent of medical data still on paper only, the science is years ahead of what is being practiced in clinics.
The wealth of information shared at Davos can almost overwhelm you, but there is no doubt that this is where decisions impacting our future are made. As communicators and as business leaders, we must be mindful of these important issues and to do our part to lead our organizations toward positive change. We must communicate openly and transparently, we should always act in accordance with the counsel we give our clients, and serve as role models for our future agency leaders. I, for one, hope that by this time next year, we have made strides in these areas and are prepared to tackle the new issues that arise at Davos 2017.