Coming off of the heels of CES, it's appropriate to not only take note of the exciting new technology developments and futuristic prototypes, but also consider how the exhibits and presentations reflect the way technology will shape and impact our world in the coming year. Emerging technologies hint at the possibility of larger shifting trends in the way we do everything, from learning to working, to chores, errands, travel, entertainment, and certainly the way we operate as communicators. Take a look at some of the top trending items from CES resulting from Hotwire's social media stats and analysis: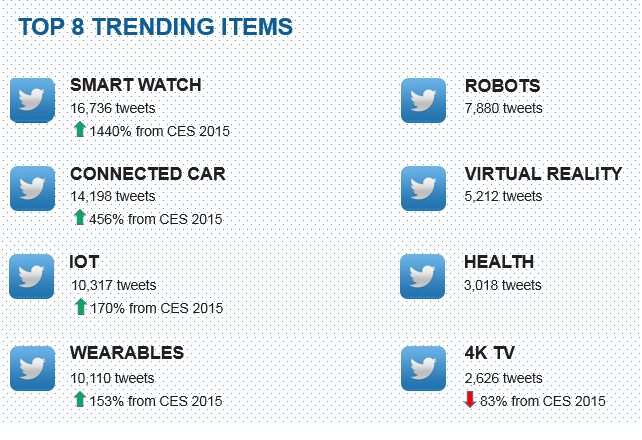 New arrivals in the top trends list (compare to 2015) include augmented reality and virtual reality, two trends Hotwire expects to make a big impact in marketing and communications this year. In our 2016 Communications Trends report, we highlighted that Virtual Reality is becoming the new reality. The "Try it before you buy it" doesn't just apply to goods and services anymore, now brands can allow customers to try experiences before they make purchase decisions. Imagine being able to invite a customer to experience what it's like to travel to a tropical island, complete with wind, the feeling of ocean spray on their faces, and even the smell of the sea under their nose. Virtual Reality experiences will be a significant vehicle to influence consumers because of its ability to "recreate" the promised experience. While the applications in the for-profit sector are innumerable, Virtual Reality will likely make an even bigger impact in the non-profit and charity sector. Allowing potential donors to "experience" the plight of disaster or war victims for example will undoubtedly lead to more contributions as consumers are able to better relate to the need at hand.
CES highlighted the VR product offering ranging from the simply designed' (Google Cardboard) to highly sophisticated (Oculus Rift) – suggesting that VR is accessible to 'virtually' everyone. The impact this will have on communications and marketing is significant, as it informs the way people share and interpret experiences. In order for communications agencies and marketers to stay ahead of the curve in reaching their audience, it's imperative that we do not overlook the many applications of this space. Still, though Virtual Reality will significantly inform communications in 2016, it's worth noting that elements of value based activism, the breakdown of traditional age demographics, and necessary shifts in advertising will also prove impactful. Take a look at this qualitative study on 2016's communications trends which highlights upcoming movements in the space, and walk away with an even deeper understanding of how this year's CES offering aligns with communication industry shifts.