Communicating in a Trump World: GSG and PR Council Bring PR Vets Together to Weigh In
By Jon Silvan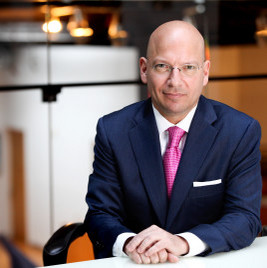 Founding Partner and CEO, Global Strategy Group
Board Member, PR Council
The first few weeks of Donald Trump's presidency have tested the media and communications industry in ways previously unimaginable. A tweet can enrage protesters across the country; murmurs of an executive order, a legal maelstrom. Last week, the PR Council and our firm, Global Strategy Group, invited our industry peers to our offices to discuss just how we advise our clients to break through the changing administration and the new communication tactics that come with it. My partner, Jef Pollock, joined Don Baer, of Burson-Marsteller, Kelly Cushman, of JDA Frontline, and KayAnn Schoeneman, of Ketchum, on a panel moderated by Global Strategy Group's DC lead, Jim Papa, to share some insights on how to communicate in a Trump world.
It was a fascinating and lively conversation (you can watch the full discussion here) that we all agreed could have gone on for several more hours. Recognizing that this is just the beginning and that the atmosphere will continue to evolve and shift, here were some of our initial takeaways:
There are No Rules
When asked about the new rules of the road for being a spokesperson, the response was, "what road?" This elicited a good laugh from everyone in the room, but also sums up a clear insight: we are in a political environment without precedent and therefore, finding new and innovative ways to communicate is critical.
It's also important to be flexible and nimble. Those of us in the public affairs space have already embraced both the need for speed, and the need to adjust strategy at a moment's notice. Turns out, we are actually well positioned to navigate today's unpredictable environment.
When Donald Trump issued an executive order banning immigrants from seven countries on January 27th, spontaneous protests erupted in and around the nation's most traveled airports. Suddenly, airport staff, major airlines, and even car services like Uber and Lyft had to quickly respond to a rapid change in business as usual. The choice to allow protestors to come into the space, or not; to shut down driving services in solidarity with striking taxi cab unions, or not; to make a statement about the impact of the travel ban, or not; all were decisions that brands had to make at a moment's notice. Preparation is key for these situations, which are sure to continue to pop up throughout Trump's presidency.
Get Close with Your Government Relations Team
Some battle-tested tactics, such as crisis planning with your government relations team, can help respond to unexpected announcements lobbed from the Oval at three o'clock in the morning. Communications and government relations teams need to be tightly synched so they can connect quickly with the right people in government and even, the White House. Where possible, having policy influencers as part of a board never hurts when defending a brand in these situations.
If a midnight tweetstorm is indeed aimed in your direction, it's imperative to respond quickly, rather than going into a communications bunker. Depending on your consumer audience, consider various tactics, such as humor, as a response.
Media isn't Earned Anymore, It's Taken
The media landscape has been democratized. We're seeing people and stories in the headlines that previously wouldn't have seen the light of day—for better and for worse. Harnessing the ultimate trifecta of earned, owned, and paid media is imperative. The public is being bombarded with information from all angles and through every medium. Being in all places at once—whether that's social media, cable, or print and online publications—is the new standard.
Alternative Facts Might Be the New Normal
Facebook is potentially gearing up to fight fake news that appears within the social network. Media outlets are fact checking themselves in very public ways to prove their credibility. But what's stopping some news organizations from reporting lies?
As the panel agreed, there's always going to be (and have been) lies spewed by public figures, especially in politics. Now, more than ever, people are made to question the validity of the sources they read, and in lieu of yet unforeseen ways to hold the media accountable for fake news, it's on the shoulders of the media consumer to find truth in their news.
It's early days still, but already clear that all of us, Democrat or Republican, will have to reimagine our communications approaches. Expect some to take a page from the midnight tweet playbook, while others will look for more traditional ways to break through the clutter. Perhaps President Trump has emerged as our industry's disrupter. At the PR Council, we plan on continuing this conversation!