Nineteen deals in, Peter Finn, Founding Managing Partner of Finn Partners, has learned to quickly spot M&A opportunities that are going to work. Finn says, "Having the right culture – or ability to fit in — is key to a deal's success." That's critical for this fast-growing, nine-year-old agency that is committed to having a heart and a conscience. Evidence that he's making the right decisions is the feedback from the agencies he's acquired, which is typically, "Best decision I ever made."
About Peter:
Peter Finn is Founding Managing Partner of Finn Partners, building what began as a small agency in 2011 into one of the largest independent agencies in the world. Over the years his contributions have included the recruitment of key executives and the orchestration of domestic and global acquisitions of agencies specializing in technology, health, consumer marketing, tourism, education, professional and financial services, branding, public affairs and social and digital practices. Under Peter's direction, Finn Partners was selected by the Holmes Report as "Best New Agency" in 2012 and later "Midsize Agency of the Year", and was named Health Agency of the Year by the Holmes Report in 2018. Prior to launching Finn Partners, Peter was Co-CEO of Ruder Finn, Inc. He first joined Ruder Finn in 1976 and played a key role since the 1980s in turning the firm into one of the largest independently owned public relations firms in the world. Peter is co-founder, with his wife Sarah, and Chairman of the Catskill Mountain Foundation, one of the largest arts organizations in the upstate New York, where he continues to work with public officials at the local, state and federal level, impacting the region's economic development. He is the recipient of the 2017 Volunteer Lawyers for the Arts award, and holds an M.A. from Columbia University in English Literature.
About the Host: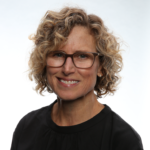 Kim Sample focuses on helping the PR Council's 100-plus member agencies thrive and elevating the PR profession overall. Prior to joining the PRC in August 2018, Kim was the founder/CEO of Emanate, a $35 million, 100+ person international marketing communications agency. During her tenure Emanate was named PR WEEK Agency of the Year and CRAIN'S Best Places to Work in NYC, and the team's work for clients was recognized with numerous industry awards. Kim also worked at Ketchum, Marina Maher Communications and Golin earlier in her career, and has served Fortune 500 clients across a number of industries, including financial services, travel and hospitality, CPG and consumer electronics.
For more information or to listen to other episodes of the Agencies of the Future podcast, click here.