Working in agencies has both ups and downs, and Todd Hansen, Principal at O'Malley Hansen Communications, believes we need to reflect more on what we love about agency life. Building a successful, long-term agency career requires a specific skillset — some constant and some constantly evolving — and a particular mindset. Todd discusses the exciting challenges and changes our talent has seen in the last five years, some that are likely to come in the next five, and the responsibilities of leaders to guide talent through them.
About Todd:
Todd Hansen co-founded O'Malley Hansen Communications in 2006. The agency is guided by a belief that individuals in our brand-savvy community actively measure "corporate brand equity" and expect to have a consistent experience with an organization as a customer, business partner, employee or interested party and that all communications must reflect its core values and approach to market.
OHC practices "Consistent Brand Communications" to help clients ensure its public message is consistent to all involved stakeholders and provides a wide range of support in marketing communications, corporate reputation, social and digital media, influencer communications and employee engagement for organizations including Barclays, HanesBrands, PepsiCo, Charter Communications, Conagra and Tyson Foods.
During his 30-year agency career, Todd has provided counsel to several well-recognized companies including McDonald's, Abbott Laboratories, Harris Bank/BMO, Bayer, AT&T and Deere & Company as well as served as a business advisor to dozens of businesses in multiple industries.
A seasoned crisis communications counselor, he has developed and executed communications programs to address public safety and corporate reputation crises, including product recalls, regulatory investigations and facility disasters. He provided counsel to United Airlines on and after September 11; led an agency team in support of retail center and consumer communications for Bridgestone/Firestone during a well-publicized national recall; and played a key in-house role for Sara Lee Corporation during one of the largest food recalls in American history, in addition to managing communications for a number of facility, litigation, financial, product and marketing situations.
Todd previously served as corporate practice group director in the Chicago office of Ogilvy Public Relations Worldwide and as senior vice president at FleishmanHillard/Chicago. He served as treasurer on the board of the PR Counsel and served on the board of directors for the Publicity Club of Chicago.
Todd is a Denver, Colo., native and a graduate of Beloit College, Beloit, Wis., where he received a B.A. degree in English composition with a journalism minor. As part of his degree, he studied political science and mass communications at the University of Glasgow, Scotland.
About the Host: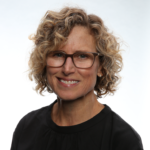 Kim Sample focuses on helping the PR Council's 100-plus member agencies thrive and elevating the PR profession overall. Prior to joining the PRC in August 2018, Kim was the founder/CEO of Emanate, a $35 million, 100+ person international marketing communications agency. During her tenure Emanate was named PR WEEK Agency of the Year and CRAIN'S Best Places to Work in NYC, and the team's work for clients was recognized with numerous industry awards. Kim also worked at Ketchum, Marina Maher Communications and Golin earlier in her career, and has served Fortune 500 clients across a number of industries, including financial services, travel and hospitality, CPG and consumer electronics.
For more information or to listen to other episodes of the Agencies of the Future podcast, click here.