In this episode, our guest is Julie Batliner, president and managing partner of Carmichael Lynch. Julie reflects on the role of PR in an advertising agency and shares how the blurring of market disciplines can accelerate growth for clients and agencies alike. Julie delves into learning to speak the language of creatives, the rapid evolution of the market, and her own efforts to achieve work/life balance.
As president and managing partner of Carmichael Lynch Relate and Carmichael Lynch, Julie oversees the leadership and direction of the agency. She is a catalyst for integration of all agency offerings, bringing clients a holistic, cross-discipline approach to their marketing challenges, accelerating growth for clients and agency alike. Julie has earned industry-wide recognition for her work and has been individually recognized as a Working Mother of the Year by She Runs It (formerly AWNY). Most recently, she was named in PRWeek's Power List of the 50 most influential people in the communications industry in 2018 and 2019. Carmichael Lynch Relate has achieved record growth under her leadership.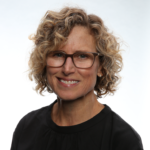 Kim Sample focuses on helping the PR Council's 100-plus member agencies thrive and elevating the PR profession overall. Prior to joining the PRC in August 2018, Kim was the founder/CEO of Emanate, a $35 million, 100+ person international marketing communications agency. During her tenure Emanate was named PR WEEK Agency of the Year and CRAIN'S Best Places to Work in NYC, and the team's work for clients was recognized with numerous industry awards. Kim also worked at Ketchum, Marina Maher Communications and Golin earlier in her career, and has served Fortune 500 clients across a number of industries, including financial services, travel and hospitality, CPG and consumer electronics.
For more information or to listen to other episodes of the Agencies of the Future podcast, click here.