Reinventing your agency has become a necessity during these difficult times.  Find inspiration and ideas in this pre-COVID-19 crisis discussion with Kathy Tunheim, CEO and Principal of Minneapolis-based Tunheim Partners.  With the agency marking its 30th anniversary, Tunheim shares several evolutions of the agency and how today she and her colleagues often take a unique approach of identifying a problem and then finding the clients to support the solution. It's an exciting way to look at the power of discipline to solve the world's biggest problems.
Kathy co-founded Tunheim in 1990, and has served as chief executive officer throughout the firm's evolution while maintaining an active role in many of the agency's client relationships. Prior to Tunheim, she gained experiences in both the corporate world, including Vice President for Public Relations and Internal Communications at Honeywell, and the political arena, which profoundly shaped her approach to creating value as an agency counselor. Collectively, these experiences cause her to be particularly intrigued by the challenges of helping clients navigate the intersections of business, public policy and the media. 
About the Host: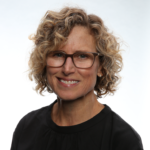 Kim Sample focuses on helping the PR Council's 100-plus member agencies thrive and elevating the PR profession overall. Prior to joining the PRC in August 2018, Kim was the founder/CEO of Emanate, a $35 million, 100+ person international marketing communications agency. During her tenure Emanate was named PR WEEK Agency of the Year and CRAIN'S Best Places to Work in NYC, and the team's work for clients was recognized with numerous industry awards. Kim also worked at Ketchum, Marina Maher Communications and Golin earlier in her career, and has served Fortune 500 clients across a number of industries, including financial services, travel and hospitality, CPG and consumer electronics.
For more information or to listen to other episodes of the Agencies of the Future podcast, click here.