A social awakening has put diverse audiences and diverse agencies in the spotlight. "It's about time," says Natalie Boden, founder and CEO of the Boden Agency. "The future is going to be about culturally rich communications." Learn more about communications that speak to cultural truths of diverse communities 365 days a year – not just during special recognition months – as well as hear some truth spoken about how this super successful mother of three tries to be good to herself.
Named one of PRWeek's 2020 Hall of Femme honorees and recipient of the 2017 ColorComm Circle Award and the 2017 PR News Game Changer award, Natalie has succeeded in building BODEN into an award-winning communications agency and winner of 2017 Agency of the Year by HPRA and PR Week's 2018 Best Places to Work. Named Power Mom by Latina Magazine, Natalie is passionate about her role as mother to her three children, Sebastian, Sasha, and Samantha.
An advocate for diversity & inclusion, Natalie serves on the Latina advisory board of Girls Inc., the board of ColorComm and the Cultural Marketing Council, as well as on the Latin Grammy Cultural Foundation committee. She is a graduate of Florida International University and a recipient of the university's Alumni Torch Award, for outstanding leadership in the profession and in the community.
About the Host: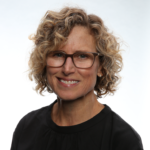 Kim Sample focuses on helping the PR Council's 100-plus member agencies thrive and elevating the PR profession overall. Prior to joining the PRC in August 2018, Kim was the founder/CEO of Emanate, a $35 million, 100+ person international marketing communications agency. During her tenure Emanate was named PR WEEK Agency of the Year and CRAIN'S Best Places to Work in NYC, and the team's work for clients was recognized with numerous industry awards. Kim also worked at Ketchum, Marina Maher Communications and Golin earlier in her career, and has served Fortune 500 clients across a number of industries, including financial services, travel and hospitality, CPG and consumer electronics.
For more information or to listen to other episodes of the Agencies of the Future podcast, click here.