This time last year, who could have known how appropriate and necessary Teneshia's new book would be? Published in November 2019, The Big Stretch provides step-by-step guidance for dreaming big and converting those thoughts and ideas into successes.  In this episode, Teneshia shares how she and her team put the principles in her book to work to drive winning outcomes for the agency and its clients through COVID-19, the economic downfall and the racial justice movement.
Teneshia Jackson Warner is the Founder and CEO of EGAMI Group, an award-winning integrated communications company recently named one of Adweek's top 100 fastest-growing agencies. EGAMI Group reaches multicultural audiences in a multicultural world, connecting companies, brands and people through purposeful, culture rich strategies, ideas, experiences and creative.
Teneshia is a dynamic speaker, two-time author, creator of The Dream Project Symposium, and coach to Dreamers at all stages of their path to greater purpose.
Her latest book The Big Stretch: 90 Days To Expand Your Dreams, Crush Your Goals, and Create Your Own Success is a fully customizable, self-evaluation and empowerment guide helping Dreamers jumpstart a new business, career, or big idea.
In the book, Teneshia chronicles her own Dream journey from quitting her corporate job, to making history at the helm of the first Black-woman led company to win the esteemed Cannes Lion Grand Prix Award, and earning a 2018 Emmy Award for Outstanding Commercial.
Her other professional awards and accolades include the Black Enterprise Rising Star Award, Black Enterprises Forty Under 40, AdColor MVP, and The Network Journal's Forty Under 40 Award.
About the Host: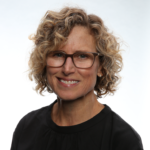 Kim Sample focuses on helping the PR Council's 100-plus member agencies thrive and elevating the PR profession overall. Prior to joining the PRC in August 2018, Kim was the founder/CEO of Emanate, a $35 million, 100+ person international marketing communications agency. During her tenure Emanate was named PR WEEK Agency of the Year and CRAIN'S Best Places to Work in NYC, and the team's work for clients was recognized with numerous industry awards. Kim also worked at Ketchum, Marina Maher Communications and Golin earlier in her career, and has served Fortune 500 clients across a number of industries, including financial services, travel and hospitality, CPG and consumer electronics.
For more information or to listen to other episodes of the Agencies of the Future podcast, click here.