Raymond Crosby, President and CEO of Crosby, and team are reaping the rewards of Inspiring Actions that Matter™.  He shares how the firm — launched 30-years ago to serve local Annapolis businesses — this year landed a $20 million, 5-year integrated marketing assignment for the Peace Corps, created a six-figure community college scholarship program to groom diverse talent, and won a slew of industry awards.
About Raymond Crosby:
Raymond is the guiding force behind Crosby's mission to Inspire Actions That Matter™, helping clients positively impact people's lives and contribute to the greater good. His creative thinking has helped leading nonprofits, healthcare organizations, federal agencies and consumer brands measurably improve their marketplace and social impact. 
Through consistent growth under his leadership, Crosby now ranks #19 on O'Dwyer's list of independent firms and  #4 on PRWeek's list of largest Healthcare PR firms. In 2021, it was named Small Agency of the Year by PRovoke Media and received a Top Workplace designation by The Washington Post for the fifth consecutive year.   
A lifelong resident of Annapolis, Maryland, Raymond is a graduate of the University of North Carolina at Chapel Hill and serves on the Council of Governors for the Mid-Atlantic region of the American Association of Advertising Agencies (4As). 
About the Host: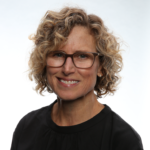 Kim Sample focuses on helping the PR Council's 100-plus member agencies thrive and elevating the PR profession overall. Prior to joining the PRC in August 2018, Kim was the founder/CEO of Emanate, a $35 million, 100+ person international marketing communications agency. During her tenure Emanate was named PR WEEK Agency of the Year and CRAIN'S Best Places to Work in NYC, and the team's work for clients was recognized with numerous industry awards. Kim also worked at Ketchum, Marina Maher Communications and Golin earlier in her career, and has served Fortune 500 clients across a number of industries, including financial services, travel and hospitality, CPG and consumer electronics.