Current Global's growth is outpacing the industry, they're winning awards – including a coveted one for Idea Creation at Cannes – and leading the industry in committing to making all work inclusive. Virginia Devlin, CEO, attributes these successes to constant reinvention, which has been necessary to balance the needs of employees and the needs of the business.
About Virginia Devlin:
Virginia Devlin is CEO of Current Global. An ace at operations, active client counselor, and sought-out mentor, she has grown Current to over 200 employees across the U.S., U.K., Germany, Brazil, China, and India, with expertise in corporate, consumer, healthcare, and technology marketing. She led the agency's launch of Accessible by Design, named a Fast Company 2021 World Changing Idea for its commitment to creating accessible content for people with disabilities. Virginia was inducted into PRWeek's Hall of Femme in 2021, is a member of the Economic Club of Chicago, and serves on the board of PRSA Chicago and Ryan Banks Academy, a school supporting under-served scholars.  
About the Host: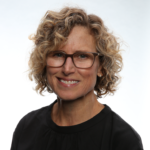 Kim Sample focuses on helping the PR Council's 100-plus member agencies thrive and elevating the PR profession overall. Prior to joining the PRC in August 2018, Kim was the founder/CEO of Emanate, a $35 million, 100+ person international marketing communications agency. During her tenure Emanate was named PR WEEK Agency of the Year and CRAIN'S Best Places to Work in NYC, and the team's work for clients was recognized with numerous industry awards. Kim also worked at Ketchum, Marina Maher Communications and Golin earlier in her career, and has served Fortune 500 clients across a number of industries, including financial services, travel and hospitality, CPG and consumer electronics.