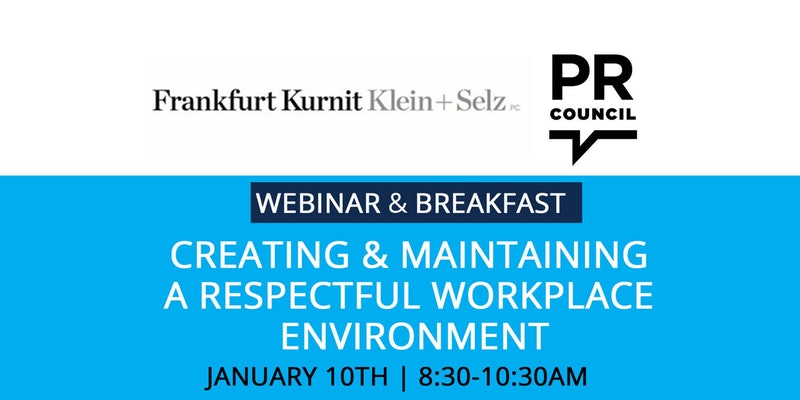 As we know, within our public relations industry, it is critically important that we provide our employees with workplaces that are safe, and respectful for all employees.  It seems as if these days you can't tune in to news reporting without another story on the subject where someone or some place has gone terribly wrong.  Please join us on January 10th at the offices of Frankfurt Kurnit Klein & Selz PC, for a presentation followed by a discussion on Creating & Maintaining a Respectful Workplace Environment.
Frankfurt Kurnit Klein & Selz PC's Wendy Stryker, employment law specialist and counsel to the Employment and Litigation Groups will lead us through the subject and cover:
-Background on this topic;
-Sexual harassment workplace laws;
-Several timely case studies;
-Managing properly in times of social media;
-Creative work environments where work surrounds sensitive topics;
-among other areas.
As part of our SHEQUALITY initiative, we plan to bring more educational information on this topic and other related topics to our Membership.  Please stay tuned for more to come.
PRESENTED BY:
Wendy Stryker is Counsel to the Employment and Litigation Groups at Frankfurt Kurnit Klein & Selz P.C. She represents marketing services agencies, media companies, tech startups, and other sophisticated corporations and individual executives in New York State and Federal courts and before administrative agencies and self-regulatory organizations.
Ms. Stryker also effectively plays the role of outside general counsel. She advises on a wide variety of employment issues as they arise, including discrimination and harassment, employee classification, wage and hour, employee discipline, employee use of social media, background checks, interview questions, and requests for disability accommodations. She regularly performs on-site training for client staff and reviews and drafts employment-related agreements, policies and handbooks.
A frequent public speaker, Ms. Stryker presented "Employment Law Issues in the Virtual Workplace" at the 2017 national South-by-Southwest conference, and "#You'reFired@Work: Social Media & Employment Law" at the 2016 South-by-Southwest conference. She has presented at the New York City Bar Association Employment Law Institute, the New York State Bar Association Women on the Move Conference, the International Association of Young Lawyers' HNW Same Sex Family's Going Global Conference, and Social Media Week in New York. The Society for Human Resource Management frequently quotes Ms. Stryker on employment law topics, and she has been interviewed on employment law matters by Forbes, Variety and SiriusXM.
Address
Frankfurt Kurnit Klein & Selz PC
488 Madison Ave, New York, NY 10017




New York

,

NY

10017

US