In this week's episode, Lisa Hannum of Beehive Strategic Communications takes us inside the carefully constructed "Hive" (a nickname affectionately given by her clients) of the Beehive offices and shares how her unique approach to investing in employees has inspired well-being, creativity, and growth. Hannum also delves into the future of purpose and transparency for agencies, and why being a Certified B Corporation has allowed her team to stay true to their mission of "building better businesses for a better world."
About Lisa Hannum:
Lisa Hannum is a purpose-driven leader who believes in the power of communication to build better businesses for a better world. She and her all-women leadership team have together built a strategic communication firm that inspires and values well-being, creativity, positive connections and growth. Beehive represents leading brands in the health, financial, education and consumer industries, including University of Minnesota Health, Beaumont Health, Coloplast, Associated Bank and Rasmussen College. The firm has received 12 national and state awards over the last five years in recognition of its people-centered practices and workplace environment. Beehive has been a certified woman-owned business since 2008.
Lisa is an advocate for advancing women in leadership and a champion for positive work environments. She is a leader in the PR Councils SHEquality Minnesota project, a member of Ellevate Network and speaks and writes on equality and the power of women leaders. She was named to PR News 2018 Top Women in PR list, an award that salutes the country's most accomplished communications professionals. Lisa serves on the board of the Animal Humane Society and is the proud mom of two daughters and a son.
About the Host: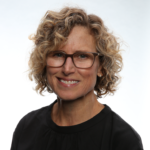 Kim Sample focuses on helping the PR Council's 100-plus member agencies thrive and elevating the PR profession overall. Prior to joining the PRC in August 2018, Kim was the founder/CEO of Emanate, a $35 million, 100+ person international marketing communications agency. During her tenure Emanate was named PR WEEK Agency of the Year and CRAIN'S Best Places to Work in NYC, and the team's work for clients was recognized with numerous industry awards. Kim also worked at Ketchum, Marina Maher Communications and Golin earlier in her career, and has served Fortune 500 clients across a number of industries, including financial services, travel and hospitality, CPG and consumer electronics.
For more information or to listen to other episodes of the Agencies of the Future podcast, click here.