While the battles for supremacy still rages in the area of social media and analytics, we've come to the point of being unable to account for 'social revenues by category', since virtually every program conducted in the industry today has 'social' at its heart. It's all 'social by design' now. Our ability to grow as an industry well beyond the GDP is solid proof that we are taking market share from other disciplines in the social area. Anyone who cannot see that is in a serious state of denial.
-Dave Senay, CEO of FleishmanHillard & 2013 PR Council Chair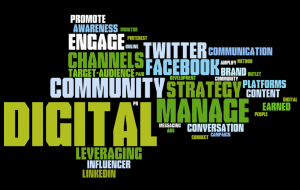 Social media has quickly grown to become one of, if not, the most influential medium for reaching constituents, shaping opinions and spreading information. It has been used to topple governments and influence social change. In as little as 5 years social media platforms have gone from experimental outlets for brands and organizations to primary pathways for reaching stakeholders. In 2012 87% of the Fortune Global 100 brands had a presence on at least one social platform. Similarly, 78% of Council members indicated that clients were increasing investments in social and digital media services.
Public relations firms play an integral role in guiding companies and governments through the increasingly integrated world of social media, developing specific communications vehicles such as blogs, Facebook pages, Twitter feeds, and Pinterest boards to name a few.
Firms are also playing a vital role in counseling corporate strategies and broader marketing campaigns that incorporate social media techniques and tactics. For instance, while many corporations spent in excess of $3.5 million dollars for a 30 second television ad during the 2012 Super Bowl, Nabisco's Oreo stole the show with their rapid social media driven response when the lights in the stadium unexpectedly went off.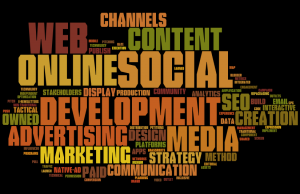 The rise of Internet usage via mobile and tablet devices are driving corporations into the interactive app game as well. Nielsen reported that in 2012 the amount of time spent on mobile apps and mobile web increased 120% and 22% respectively; most likely in part to an 82% increase in mobile web users and an 85% increase in mobile app users.  As brands and organizations look to reach consumers and stakeholders across an ever-increasing number of devices PR firms often play a pivotal role in creating mobile friendly content and building mobile applications.
When it comes to interpreting the mountains of data derived from social media activity, there is still a lot to be learned.   The two images above represent the words most used in describing the definition of digital and social.