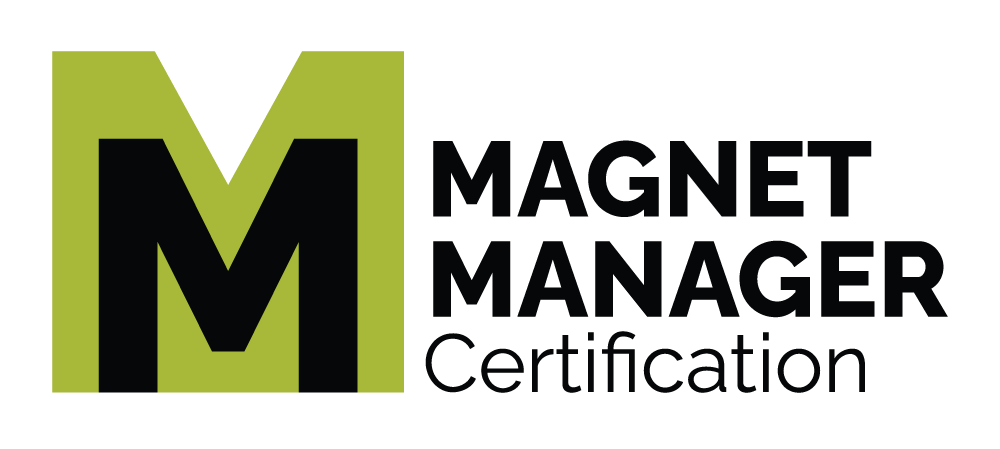 SERIES DESIGNED TO SPUR INDIVIDUAL
AND TEAM GROWTH
Two years of remote work have challenged even the most inspirational and skilled managers. And the continuing Great Resignation has many of us feeling like our best efforts to groom talent are in vain. These are challenging times but creating a magnetic attraction between employee and manager continues to play a huge role in retaining talent. That, coupled with a sophisticated approach to the agency business propels managers into highly valued leaders.
The seven-part series is designed for people with 0-6 years of experience as a manager and will help develop the mindset and skills that strengthen loyalty, foster client success, and lead to professional growth for you and your teams. Participants can complete all courses in the series to earn a badge or elect to join for only those topics that have become more challenging in today's virtual environment (e.g., onboarding, delegation, and feedback). All participants are strongly encouraged to also participate in PRC's UN BIAS series.
March 15 (4:00 – 5:00 P.M. ET)
Led by Patrice Tanaka, Joyful Planet LLC
Join Patrice Tanaka, Founder & Chief Joy Officer of Joyful Planet, to learn why discovering and actively living your purpose is the single most powerful thing you can do to UNLEASH your leadership potential and ensure a more successful, fulfilling and joyful life. During this webinar, participants will learn: 
What is a life purpose and why it matters? How to leverage our talents, expertise, and passion in service of other people and our planet. 

How a life purpose can focus and drive you to accomplish what matters most in a highly efficient way, creating a powerful, "competitive advantage" in business and life.

How sharing your life purpose makes yourself more fully known to others and engages them in a deeper, more authentic, and profound way to start the process of establishing trust – the key for people deciding whether to engage with you, do business with you and even help you achieve what matters most to you.

How purpose can help us navigate the challenges of life, including times of pandemic. Being guided by our purpose is like having our own personal North Star. 
April 19 (4:00 – 5:00 P.M. ET)
Led by Allyns Melendez, HR Transformed
Great onboarding programs help maintain a high retention rate, drive job satisfaction, and improve employee performance. In this session, you will learn the specific elements of successful onboarding programs which includes information to help an employee meet the expectations of their new job, as well as the company's values and culture. In today's remote or hybrid environment, your role as a manager during the onboarding process is more critical than ever and can immediately impact the success or failure of a new hire. By ensuring that your team members receive clear information on culture and performance requirements, you will motivate them be successful in their new position and a positive contributor to your company's culture. 
May 17 (4:00 – 5:00 P.M. ET)
Led by David Bosses, The Prosper Group
This course will improve your knowledge of the business of the agency business, empowering you to take actions that not only will delight your CFO, but also improve your stature and authority with clients. This course succinctly lays out how you can contribute to the financial success of your agency. You have been promoted to a manager level because you know how to deliver for clients and build top-line revenue; this session is about contributing to the agency's profitability. 
June 21 (4:00 – 5:00 P.M. ET)
Led by Mark Riggs, Pemberton
Incremental account growth is one of the most critical factors to an agency's financial success. In our industry we are trained to run business, not grow business. The work does not just stop because you have done the hard part and won the account. In this webinar, you will learn how you and your team can radiate partnership to your clients and grow the business by collaborating. Uncovering this pathway to organic growth is key to advancing your career.
September 20 (3:00 – 4:00 P.M. ET)
Led by Melody Wilding, Melody Wilding
You are driven to succeed. But because you process information deeply, you are susceptible to stress, emotional overload, and overthinking. Ambition, sensitivity, and attention-to-detail are a tricky combination and make delegating and trusting others even more challenging. The good news is that these traits can also make you a powerhouse performer who helps others become the same.
The key is learning to manage your mind, communication, and emotional responses in productive ways so you can effectively delegate and deliver the results that make you and your colleagues operate as a high performing and happy team.
October 18 (4:00 – 5:00 P.M. ET)
Led by Ken Jacobs, Jacobs Consulting & Executive Coaching
Giving constructive feedback that inspires great work is the most critical element of performance management. Without it, how can a manager expect team members to grow, remain engaged and stay at the agency? Lack of feedback leads to low morale, disengagement, and departures. As a manager, it is your responsibility to learn how to effectively provide positive and constructive feedback and do so often. Fun fact: the more you give, the easier it becomes, so get started with this how-to session.
November 15 (4:00 – 5:00 P.M. ET)
Led by Johna Burke, AMEC
Digital + earned is a powerful combination and offers a whole new arsenal of metrics for agencies to prove the effectiveness of our work. And we all know that proving results to clients is the key to growing budgets. In this course you will learn the fundamentals of measurement and evaluation, including the terminology, tools, and techniques, and how to put them to work to demonstrate your team's impact.
Led by Johna Burke, Global Managing Director, AMEC, this webinar will arm managers with the best ways to measure and validate what we do for our clients. Participants will learn:
Measurement basics for fully integrated programs.

Common terminology and definitions, as well as popular platforms and tools.

Best practices for continued professional growth in analytics and measurement.
$49 per employee per session | $249 per employee for full series
Please note ticket purchases are not refundable