The panel featuring marketing leaders from Heineken, Madison Square Garden, and Intel gathered on Friday morning at the Critical Issues Forum.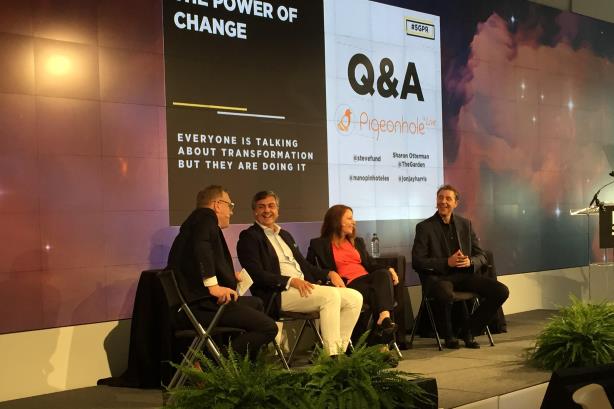 NEW YORK: CMOs from Intel, Heineken, and Madison Square Garden stressed the importance of an integrated marcomms team and experimenting with different channels as the marketing landscape changes.

"Traditionally, the CMO is responsible for the brand and company positioning," said Intel CMO Steve Fund at the PR Council Critical Issues Forum on Friday. "Today, more than ever, the CMO is also responsible for driving business transformation. We need to connect the dots between the business and the brand and do the creative aspects of the job, but also drive business change."

Nuno Teles, CMO of Heineken, and Sharon Otterman, his counterpart at Madison Square Garden, both agreed that the chief marketing officer position is becoming more important to business operations. Teles called the CMO the "lighthouse of the executive team."

That integration extends to PR. As the lines continue to blur between PR, marketing, and advertising, Fund suggested they both work better when they work more closely.

"We jointly need to be able to get out the message because the means have changed," Otterman said.

As the methods of getting a message out have shifted to digital, video, and experiential, CMOs also need to adapt. Teles discussed Heineken's successful video campaign, Worlds Apart, earlier this year as an example of how to do long-form video well.

"The learning we had from this initiative was that it was authentic and real," Teles said. "We want to move forward with this idea, but also want to be sure we can do it in authentic way, as opposed to the Pepsi approach [with the Kendall Jenner ad], which was more artificial."

Intel's most important channel is digital content. He said Intel's media mix is about 50-50 between digital and traditional.

"Everything we do from a marketing standpoint drives people to digital content; even TV ads drive people to a deeper, richer experience online," Fund said.

Fund's team is also experimenting with events, like Intel's drone show during halftime of the Super Bowl in February and the company's partnership with next year's Winter Olympic Games in Pyeongchang.

Otterman is no stranger to event partnerships at Madison Square Garden, but she has also focused on refreshing the company's digital platforms to make it easier for the consumer to interact with the company from ticket sales to social media. Her three top priorities are platform, storytelling, and targeting, she said.

"We can't lose sight of the consumer," Otterman said. "At end of day, the business and growth is going to come from the consumer."

This article originally appeared on PRWeek on September, 15, 2017.