Renee Wilson is one of nine women being recognized for her ability to innovate and inspire.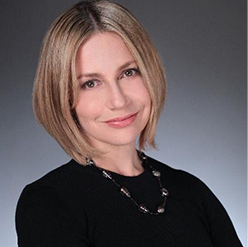 NEW YORK, NY – PRWeek honors Renee Wilson as one of the marcomms industry's trailblazers, influencers, and innovators. This year's inductees include Renee Wilson among nine talented women who challenge the status quo, push for the big idea, and strive to make a difference.
Each has achieved success within their own organization, inspired colleagues, and, through innovative and transformative work, elevated the practice of public relations to new heights. This cadre of talented women will be profiled in the April issue of PRWeek.
Wilson is helping the PR Council establish a clear identity at a pivotal time when trust in business and government continues to erode, traditional advertising is fading, and public relations is transforming. Wilson, who spent 11 years with MSLGroup rising to chief client officer and president of North America, also had successful stints at Ketchum, Fleishman Hillard, and Hill+Knowlton, where she worked on Go Red For Women! She was on one of the first Cannes PR juries and was PR jury president in 2014. She is on the Emma Bowen Foundation board helping interns of diverse backgrounds within the PR industry.
This year's nine inductees are: Kathy Bloomgarden, CEO, Ruder Finn; Kimberley Goode, VP of communications and corporate affairs, Northwestern Mutual; Catherine Hernandez-Blades, SVP of corporate communications, Aflac; Margery Kraus, founder and executive chairman, APCO Worldwide; Marian Salzman, CEO, Havas PR North America, and chair, Global Collective; Barby Siegel, CEO, Zeno; Melissa Waggener Zorkin, founder and CEO, WE Communications; Pam Wickham, VP of corporate affairs and communications and CCO, Raytheon; and Renee Wilson, president, PR Council.
PRWeek will also celebrate 40 women nominated by their peers as Champions of PR because they consistently bring their "A" game and inspire those around them to do the same. These comms pros are up for every challenge and ready to go above and beyond to ensure results exceed business goals and achieve creative excellence.
"In an industry dominated by women, the PRWeek Hall of Femme and Champions of PR celebrate a powerful group of women who through talent and tenacity achieved amazing career milestones, worked tirelessly to make a difference in the world, and helped pave the way for future generations of women. They are inspired, fearless, and unstoppable," said Bernadette Casey, executive editor of PRWeek.
Find more insight into the honorees for PRWeek Hall of Femme and Champions of PR click here.
#  #  #
About the PR Council
The PR Council is the trade association of America's leading communications and public relations firms. Its membership represents the premier global, mid-sized, regional and specialty firms across every discipline and practice area. The Council's mission is to advocate for and advance the business of communications and public relations firms by building the market and the value of firms as strategic business partners. For more information about the Council, visit prcouncil.net.
About PRWeek
PRWeek is the world's leading PR and communications publication. In May 2014, PRWeek launched the fi rst global PR destination by integrating its highly regarded U.S. and U.K. sites and launching a brand new site in Asia. Together, these sites bring a unique regional perspective to global issues with editorial staff based in London, New York, Hong Kong, and Singapore providing news and insight on the critical issues facing the communications industry. PRWeek epitomizes the modern business publishing brand, providing breaking news, analysis, and opinion via an omnichannel platform that includes its website, newsletters, print and digital magazine editions, and social media. To learn more, visit www.prweek.com.