PR Council Agency-Ready Certificate
Registration for the 2022 program is now open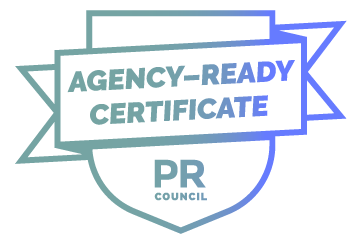 Calling all undergraduate/graduate students and recent college graduates interested in agency careers
Here's an opportunity to gain a credential that will ensure you stand out to hiring managers and hit the ground running when you land the job. Now in its third year, our free Agency-Ready Certificate program has won rave reviews from students and agency pros alike – even professors gave it an A+. Thousands of students have already earned their certificates and began their agency careers and this year we are excited to offer further improvements. 
The program includes webinars led by agency leaders on the most critical skills, including strategic planning, applying data, strategic social media, influencer engagement, crisis communications, client service, digital innovation and more. You'll also learn from agency pros about the huge growth across the industry, the business impact of integrated PR campaigns and our Member firms' actions to become more diverse. 
Whether you have an internship/entry-level role or are looking to secure one, earning the Agency-Ready Certificate and then adding your resume to our proprietary career portal will help you attract the attention of our 130+ Member firms.
Please sign up using the registration link below. We cannot wait to meet you. 
Please register here
Please be sure to select "2022 Agency-Ready Certificate" (not Member Employee).
If you participated in the program previously, please be sure to create a different username when you register for this year's program.
Please note, we anticipate this program will launch the week of June 6th. We will send those who have registered more details about the program as we approach that date. and will send out e-blasts on a weekly basis. 
This program is free to all participants. 
*PR Council aims to be an inclusive organization and remove barriers and obstacles for people with any disabilities. If you are a person with activity limitations or participation restrictions, please reach out to us at prcteam@prcouncil.net so we can explore modifications that can be made. 
Frequently Asked Questions