PR Council Agency-Ready Certificate
Registration for the 2021 program is now closed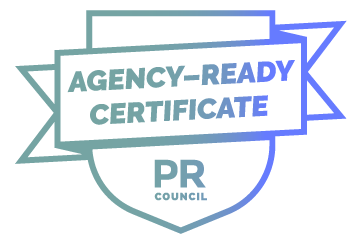 Calling all undergraduate/graduate students and recent college graduates interested in agency careers
We need you! Our first-ever Agency-Ready Certificate program last summer won rave reviews from students and agency leaders alike – even professors gave it an A+. Nearly 2,000 students earned their certificates, and many have accepted agency jobs. This summer, we are bringing back this popular program.
Whether you have an internship/entry-level role or are looking to secure one, we want to help you on your path to a successful agency career. We know that new talent is the lifeblood of our agencies, so we want to get to know you and provide you with critical knowledge to be successful. By participating in the program and our career portal, our Member firms will know where to find you and you'll be even more prepared.
Please click on the registration link below to sign up for the certificate program. You'll participate in agency leader-led webinars on important areas including strategic planning, applying data, social media strategy, crisis communications, client service, digital innovation and more. You'll also hear from agency pros on important industry tech platforms, actions the industry is taking to become more diverse, secrets to remote interviewing, resume writing and time management.
We all cannot wait to meet you.
REGISTER HERE (registration closed 7/23/21)
Please be sure to select " 2021 Agency-Ready Certificate" (not Member Employee). 
Please note, we anticipate this program will launch the week of June 7th. We will send those who have registered more details about the program as we approach that date. and will send out e-blasts on a weekly basis.
This program is free to all participants. 
*PR Council aims to be an inclusive organization and remove, barriers and obstacles for people with any disabilities. If you are a person with activity limitations or participation restrictions, please reach out to us at prcteam@prcouncil.net so we can explore modifications that can be made.
Frequently Asked Questions
What is the Agency-Ready Certificate?
This is a program facilitated by the PR Council (PRC), open to college/graduate students and recent grads. The PRC wants to get to know this critically important group and keep them engaged in and excited about pursuing careers in our industry.
The certificate program will require participation in live or recorded webinars on important areas including strategic counsel, client service, persuasive writing, applying data, social media strategy, crisis communications,  etc.  Instruction on important tech platforms utilized by agencies is also planned.
What is the PR Council?
The PR Council (PRC) is the U.S. trade association for the Public Relations industry representing 116 of the country's top PR firms. The organization's mission is to help grow talent, revenue, profits and reputation for Member agencies, and the industry. The Agency–Ready Certificate program delivers on our mandates to grow talent and reputation.
Why is the PR Council doing this?
We want to help young talent build their resumes, learn about the multitude of exciting and varied career opportunities available at agencies and grow their professional networks.
Who should participate?
The program is for current college/graduate students and recent grads, who want to become better prepared to work in a PR agency or simply learn more about the career opportunities PR agencies offer.
I participated last year. Can I do it again?
We're happy to have you again. A number of courses will be new or modified and we'll have many new "instructors," but you can expect a few repeats. Please note that you must re-register for the program, making sure to select a different username from the one you used last year.
Is there an application process?
No, students simply need to indicate their interest by registering online. The program outline will be available to students in early May. Registered students will receive notification of portal and program sign-on instructions in the weeks leading up to the program's start.
When is the registration deadline?
This is a rolling registration. The final date to enroll and complete the program is Friday, July 23rd. Please note, you will only have until Friday, August 6th to complete the program.
How much does it cost?
The program (career portal and certificate program) is free.
Who developed the curriculum?
The country's leading agencies are providing learning and development opportunities that they normally only provide to their employees. Additionally, there will be content and training options available from other relevant industry partners and important technology platform providers.
Are there assignments and/or tests?
No assignments will be given; however, participants will have to submit a written response after every course to receive credit. The link for this will be available on the website following each live webinar and will also be included with the recording if you are viewing the session that way.
What are the requirements to earn the certificate?
Earning the certificate requires completing 20 hours of educational webinars. Out of the 20 hours, 14 have been identified as "required." The additional six are up to the individual and, of course, participants are welcome to participate in more than 20 courses.
If I'm unable to attend the live sessions, will I receive credit for participating in the recorded sessions?
Credits will be given for live and recorded sessions. Our intention is to make it equally accessible for all.
Will I get college credits for earning the certificate?
At this time, the program is not designed to provide college credit. Please discuss special circumstances or requests directly with your academic institution.
How long has this certificate been in development?
We initiated this effort in 2020 in response to the economic impact of the COVID-19 crisis, summer internship cancellations and a pause on entry-level hiring. Due to the success and positive response to the pilot program, we are pleased to offer it again.
Where do I register?
Please register here.
How many students can participate? Is there a limit?
We will accommodate all students who register.
I registered but haven't heard anything yet?
You will receive an email letting you know your account has been approved within 5 business days following registration. We will be communicating about the program via email regularly beginning in May. Please make sure to read all weekly e-blasts carefully and check your junk folder to ensure they are not going there. The emails will come from the PR Council.
When does the program start? When does it end?
The program will start on the week of June 7th and will run for eight weeks, through July 30th.
When does the program need to be completed?
While the live webinars are scheduled from June 7th through July 30th, you'll have an extra week to complete any required hours. The program must be completed by Friday, August 6th. There will be no exceptions.
What days will the program take place?
Live sessions will be offered on Tuesdays and Thursdays at 12:00 P.M. and 4:00 P.M. ET and Wednesdays at 12:00 PM ET. Each session will then be available as a recording 24/7 to accommodate everyone's schedule.
How will this be tracked?
To receive credit, participants must submit a written response (# of words) after viewing each webinar. The link for this will be available on the website following each live webinar and will also be included with the recording if you are viewing the session that way. Once you've completed your 20 hours, you will be able to download your certificate directly from your account.
What technology will be needed for students to participate?
Students will need a computer or smartphone.
How does the Career Portal work?
The career portal is available for Agency-Ready Certificate participants to post their resumes and conduct job searches. Our Member agency recruitment teams will access the portal as they search for intern and entry–level candidates. Member agencies will also be able to post job openings directly on the portal.
Is there a faculty component or opportunity related to the program?
We currently do not have a faculty component other than asking educators to encourage their students to join. Faculty are welcome to listen in and, of course, feedback is always welcome.
Are there student networking opportunities available?
We have created a LinkedIn Group for program participants-only. Once you have registered for the program, please click here to ask to join the group. You must be a student or recent grad and enrolled in the course to become a Member.