If you have ever watched CBS's coverage of the NCAA tournament, you know the theme song for the road to the Championship is "One Shining Moment," a chance for any of the 64 teams to have that special moment in the spotlight. On Friday, that moment came true not only for the University of Maryland Baltimore County (UMBC), but for its Twitter handle. While the school became the first men's 16 seed to take down a top-rated team, the school's athletic department Twitter page got its one shining moment.
While the school could not have possibly anticipated the upset, it was ready. Just the magic of being at the tournament was enough for the department's director of media Zach Seidel to ask permission to live tweet the game, "My boss gave me the green light to give the handle a personality, so I did," he told CNN.
Armed with permission and personality, Seidel made the most of the moment. During the game, he created dozens of original tweets and many more replies and retweets, playing off the country's disbelief that UMBC was winning. When a well known sports writer joked "BTW, does anyone know what UMBC is," the department tweeted back, "University of Maryland Baltimore County, who are you?" And when a UMBC player mimicked quarterback Aaron Rodgers' title belt move, the handle engaged Rodgers who tweeted back his support with an "I see you." They gave credit to the Harvard women's team when people claimed they were the first team to experience this kind of upset, saying, "They laid the groundwork, it just took us 20 years to catch up."
What was an account with 5,000 followers had 96,000 by Sunday and no doubt, awareness of the school is higher today outside of Baltimore than it ever was. So how was Seidel successful? Perhaps the biggest asset was history with the brand. He had supported the athletic department starting as intern ten years ago so could think quickly in the moment, knew his story, and was even able to pull up some old negative tweets from opposing schools and ask how the view was from their living rooms.
Classically, colleges "dancing" in the NCAA tournament experience a lift in admissions, and UMBC was ready to extend their "real time moment" into powerful earned media in top-tier press. They leveraged the opportunity to not just tell a "cute" Twitter handle story, but also underscore its powerful academic creds in the New York Times, as well. It was a moment to tell their "brand" story and they did so with aplomb.
The incentive for brands to be prepared is evident. Surely your "one shining moment" will come, whether with a brand launch, a cultural moment that references your brand, seizing on an opportunity from a fan such as client Wendy's response in "#NuggsforCarter"  or even a negative moment turned to a positive such as the creation of @crockpotcares leading up to the finale of "This is Us."
But you can plan for agility. Ketchum's StoryWorks team has created agility training and processes that allow brands to improve the speed, quality of content and decision making in planned and unplanned opportunities. Among the preparation steps:
Know your brand voice and decide ahead of time what is and is not the appropriate tone
Deploy real-time monitoring that allows you to identify that "one shining moment" early
Determine legal parameters and processes in advance and agree when legal approval is needed for posting
Train and then give permission to dedicated, experienced community managers who can help you navigate in real time.
Prepare leadership to serve as spokespeople; use the opportunity (when possible) to reinforce larger organizational initiatives
While the Retrievers don't get to go the Sweet Sixteen, they've already won the Twitter war, gained an incredible followership and had some fun along the way.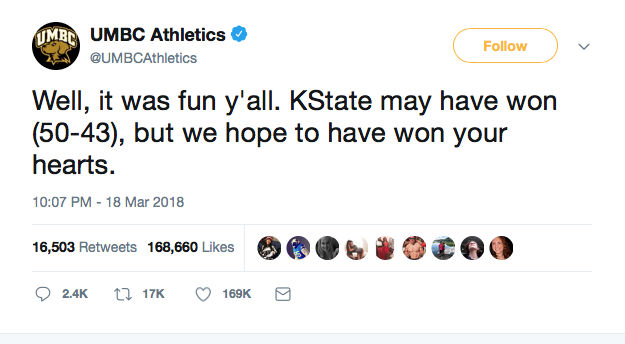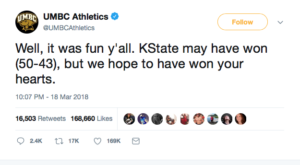 Bill Zucker is a Partner and Managing Director of Ketchum Midwest and Canada, and watching a March Madness without his alma mater (University of Wisconsin-Madison) for the first time in 20 years. Abby Lovett is an SVP in the Midwest Brand Practice. She holds an M.S. in Communication and Management from Northwestern University and a B.A. in writing from DePauw. This post was originally published on Ketchum.