Originally Published: Cision
Publish Date: May 8, 2015
Author: Matt Shaw, SVP, PR Council
As public relations firms compete for an ever-broader portfolio of client business, they're seeking out a new breed of talent to help them grow: people who can connect the dots strategically.
Firms are hiring professionals with titles such as "head of planning," "strategic insights leader" and "brand planning director," and they are mobilizing this new bench strength to win business formerly reserved for other disciplines.
A recent PR Council member survey found that over 50 percent of firms responding had a planner on staff, 50 percent planned to increase investment in this area over the coming year, and 60 percent felt that having planners on staff helped them compete better with ad agencies, digital firms, branding shops and other public relations firms.
So who are these new "dot-connectors," and how are they helping firms boost their revenues and position themselves for a brighter future?
Profile of a planner
As Katina Denise Scott, SVP brand planning director at Taylor, remarks, "Planners are a strange breed, and I say that with the utmost love and adoration. They have unique backgrounds and all kinds of outside interests."
Our interviews with planners at several firms bore this out. Scott herself studied painting and printmaking before entering the advertising world. Jesse Dienstag, executive director and head of planning at Golin, studied theater. Lindsey Wehking, assistant account planner at FleishmanHillard and the most recent college grad of the bunch, was a journalism major with a minor in anthropology. And Emily Bunce, insights manager at G&S Business Communications, dual majored in history and marketing, worked in the consumer insights department at Macy's, and got an MBA in business strategy.
Probing a little deeper, we identified insatiable curiosity as a key quality of planners.
"We are genuinely curious about the world around us," Scott notes. "And we should be—it's our job to understand human beings and human behavior. If you don't like to people watch, this job might not be for you."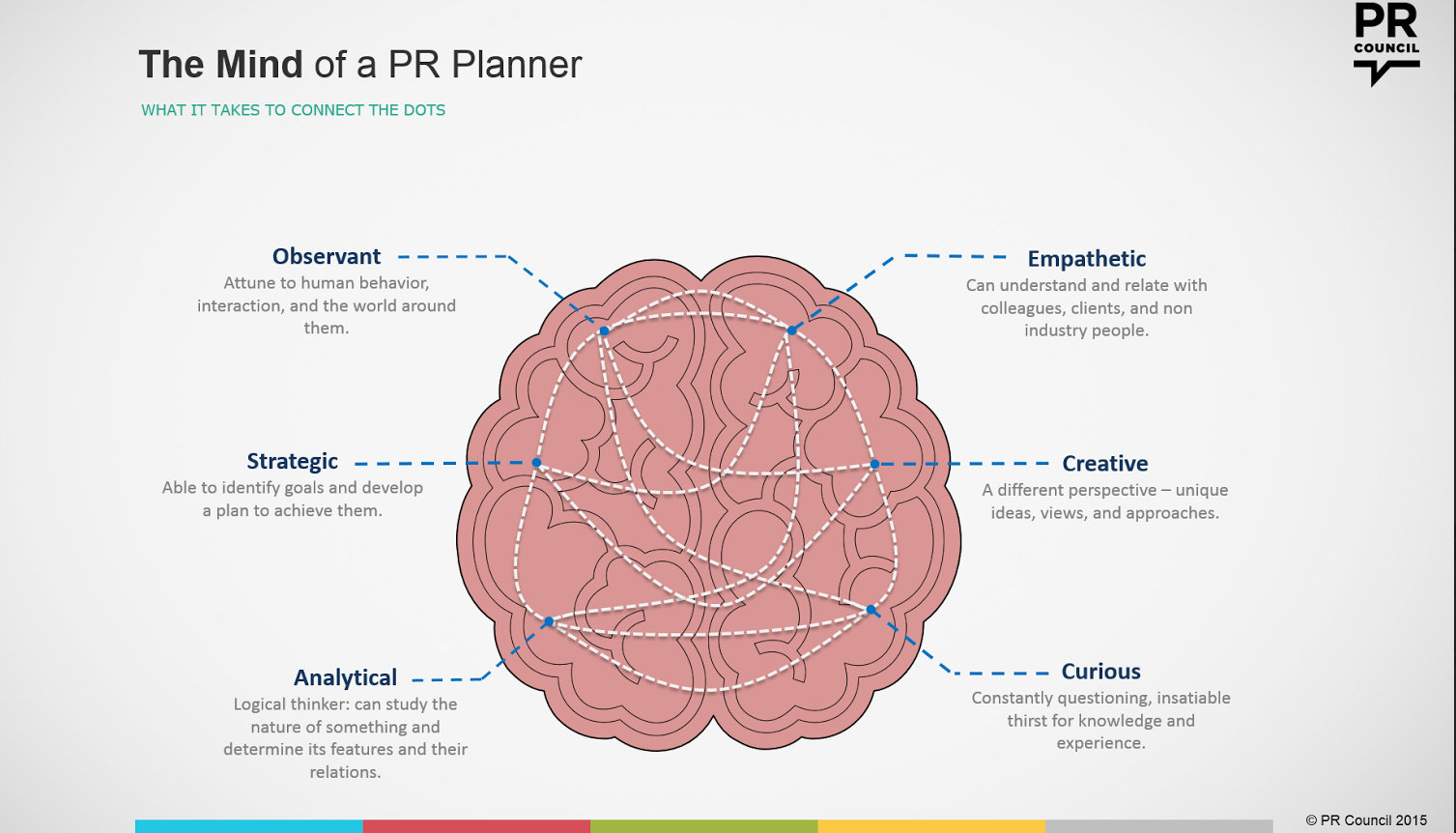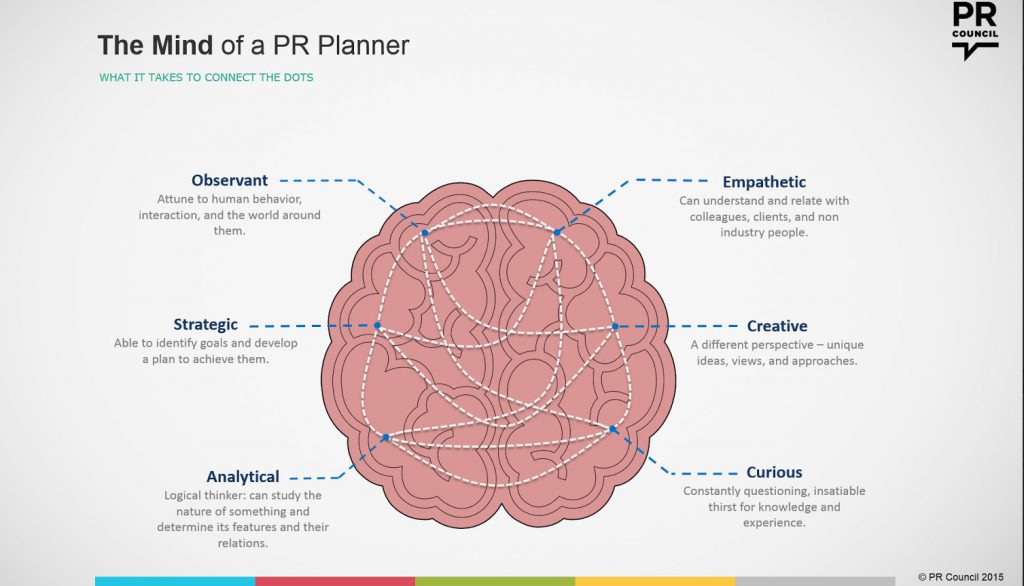 Wehking suggests that planners become engaged with the world in ways that are ultimately quite difficult to define.
"Planning is just this bloody brilliant combination of everything," she says. "It's research, marketing, anthropology, economics, history, biology all rolled into one. It's an art and a science. It requires you to be type A and type B, introverted and extroverted. It's a career where being a walking contradiction can be a huge advantage."
What planners do
It all sounds messy and chaotic and uncertain—and wonderful. But one thing is certain: planners are contributing in all kinds of ways at PR firms, first and foremost in new business.
As Dienstag related, Golin's insights-fueled new business team had lost only one pitch since he'd been working there, and that loss occurred because the team was perceived as too forward thinking. (Is that even possible?)
"There is a real appetite out there among clients for discovery work," he notes. "I worked in advertising before, and my experience in public relations has been tremendous."
Other planners reported performing a wide array of research for clients, from qualitative interviews to social media monitoring to consumer surveys to secondary research. They also contributed internally, helping colleagues across their firms become more creative and strategic in their thinking.
"Great ideas don't just happen," Wehking says. "Fueling creativity is hard. And it's part of a planner's job to not only understand the target audience, but to understand everyone you're working with and how to create environments that spark creativity."
Since planning hasn't traditionally been offered at public relations firms, planners find that they often must educate account teams and others about research and how to use strategic insights effectively. Our panel of planners expressed excitement about the challenge of practicing their craft in the new context of public relations. Further, these planners described their work as having an entrepreneurial character to it, with firms giving them wide latitude to develop the planning function, determine which research tools to invest in, and explore how planning insights might best be applied to client work.
"G&S Business Communications saw strategic insight as a competitive opportunity," Bunce explains. "I would advise all firms to look at it in that way. Don't jump in with a preconceived notion of what it could look like. Listen to account teams and adjust your approach on that basis. You don't necessarily have to spend a lot of money on research tools. There are all kinds of ways to gain insight."
Planners aren't merely forward leaning in their approach to the business; they're pushing firms and clients toward what's next as well. Sometimes that means coming up with a brand new idea, but other times it means casting light on a familiar idea that has been staring everyone in the face all along.
"Some of the best insights are actually quite simple and intuitive," Scott astutely remarks. "It's a crazy epiphany that gives you a shock of recognition or surprise—it could be something obvious that everyone has long overlooked."
Getting to those epiphanies, planners note, involves asking the right questions, which brings us back once again to that characteristic of planners, curiosity.
Scott reports having a sign on her door that says, "The answers you get depend on the questions you ask."
Something tells me that others of her cohort probably do, too.
Strategic planning represents an important trend to watch at today's public relations firms, and our investigation revealed why. In today's competitive markets, having people around who can connect the dots is vital. But having gifted people around who know how to pose the right questions—well, that's even better.