Jack Link's Beef Jerky with Carmichael Lynch Spong
Overview
To increase brand awareness of Jack Link's Beef Jerky, Carmichael Lynch Spong and Carmichael Lynch sought to bring the agency's well-received "Messin' With Sasquatch" public relations and advertising campaign to online audiences.
In 2007, Carmichael Lynch gave the Sasquatch character from the advertising campaign his own persona and voice by creating a MySpace page. The objective of this MySpace page was to engage his "friends" to watch and pass along the YouTube "Messin' With Sasquatch" commercials.
A Carmichael Lynch staffer created the page and became the Sasquatch persona, blogging, leaving comments and messages for his "friends." The platform also expanded to YouTube, Facebook and the blogosphere in 2008.
Strategy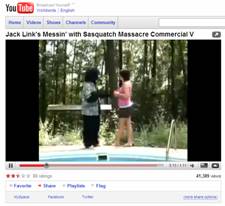 In 2009, to keep the Jack Link's brand innovative and top of mind with consumers, Carmichael Lynch and Carmichael Lynch Spong developed LivingSasquatch.com, a microsite which uses Boffswana's Releas3DTM augmented reality technology to allow users the ability to "mess" with Sasquatch. A social media release was distributed and blogger outreach was conducted to launch the site to Jack Link's core consumers.
For the Jack Link's "Messin' With Sasquatch" campaign, within two months the Sasquatch MySpace page had over 50,000+ friends, and with one year in, the page is still going strong. Sasquatch now has over 140,000+ friends.
Results
"Friends" and pass-through contributed millions of additional YouTube views of the Jack Link's "Messin' With Sasquatch" commercials. Total views of the commercials are well over 7 million between YouTube and Myspace. Sasquatch's YouTube channel has more than 3,370 subscribers and more than 165,000 views. There have been dozens of "copycat" "Messin' With Sasquatch" videos made, including animated videos, gaming videos (Halo and Grand Theft Auto) and live action full costume videos.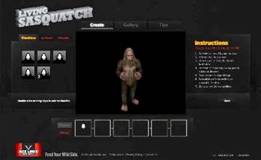 For the Living Saquatch launch, blogger and social media outreach efforts yielded almost 3MM blog impressions and nearly 150,000 Twitter impressions so far, with coverage still being monitored in the blogosphere.
Third party online measurement sites are being used to track unique visitors to the social media outlets, as well as demographics and the level of engagement. Carmichael Lynch Spong is also using its proprietary social media measurement tool, Blogalytic™, to assess the quality of Jack Link's presence in the blogosphere. This helps direct Carmichael Lynch Spong's strategic efforts toward increasing and maintaining positive conversation by the target audience.