Crenshaw Communications
We dream "big ideas" for the largest retailer of mattresses and sleep products in the U.S. With 700 stores and a strong online presence, Sleepy's seeks to be synonomous with a good night's sleep.
To that end, Crenshaw Communications builds positive visibility and reinforces brand identity through traditional and social media that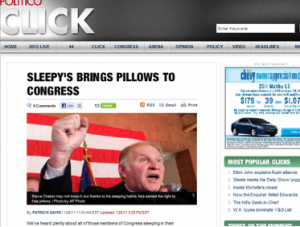 differentiate Sleepy's from competitors. Programs include everything from bestowing beds on the sleepy parents of New Year's "first babies," to presenting pillows to newly elected Congressmen sleeping in their offices (which drew tongue-in-cheek product coverage in beltway blogs like Politico and Roll Call.)
Most recently, Sleepy's took its healthy sleep message to the streets encouraging Daylight Saving Time sufferers to "Take Back Their Sleep." This was supported by pajama-clad street-teamers offering "Nap Sacks" filled with healthy sleep products and multi-market radio promotions arming listeners with ways to cope with "clock shock." A survey exploring consumer views on Daylight Saving Time and a viewer contest on LXTV rounded out the campaign.
STRATEGIES
Leverage hot-ticket news stories for their link to sleep
Establish Sleepy's representatives as go-to experts for media and consumers
Take ownership of key topics and seasons related to healthy sleep
RESULTS
The Daylight Saving Time campaign was driven by major local and national media, including LXTV and Self Magazine, as well as an ongoing series of Mommy blogger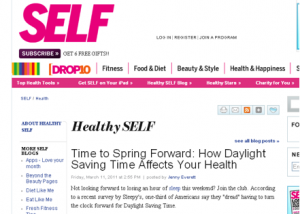 giveaways. The upshot is a more compelling positioning for Sleepy's as an expert and advocate for all things sleep.