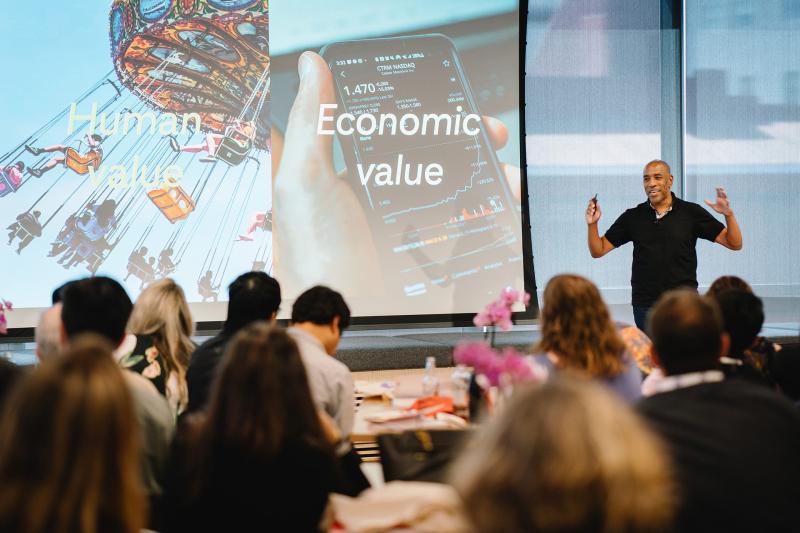 Pinterest came to Hotwire for support to elevate the employee experience during their quarterly Senior Leadership Conference (SLC), through the development of a cohesive branded experience. Depending on each quarter/event, Pinterest needed a variety of assets from event sub-branding, templates, presentation design, digital and printed event collateral, and wayfinding signage. Given the frequency of the event and how the format has transformed between an in-person and hybrid over each quarter, our creative team assists in streamlining production to deliver the content within a month leading to the actual event.


Once Pinterest determines the event theme and messaging, Hotwire's creative team provides directional exploration, locks in on a sub-branded visual identity, develops templates for content teams, and builds printed collateral and presentation content. 
We partnered with Pinterest's team to develop a custom logo for their Q3 2022 event that aligned with the company's overall brand, theme and messaging during that quarter. This example was to signify the future planning as well as introduce their new CEO, Bill Ready. 
With events, there are many important deliverables that require attention and print deadlines. We work with the Pinterest team to ensure that event collateral gets printed in a timely manner while staying organized with a tracker that clearly shows deadlines, status and locations.


In Q4 2022, the event was themed around the great outdoors and called Camp North Star. Hotwire took the mood board designed by Pinterest and translated it into presentation decks, printed signage and collateral. Building on learnings from past events, Hotwire designed a 32-page workbook that tied the entire event together. This workbook consisted of session content, breakout activity content, speaker info and interactive content such as quizzes and puzzles. The event resulted in 132 in-person attendees, 9 virtual attendees, and 10 presenters. 
Pinterest People Project Manager, Maddy Fraioli, shared the following testimonial: ""Working with Hotwire made planning for the SLC offsites so smooth and easy. They were instrumental in pulling together, designing, and polishing all of the slide decks to get our presenters ready. They were consistently responsive in their communication, responded quickly to feedback, and truly made the design workstream the most fun and exciting part of the planning process."

Case Studies User Information Request