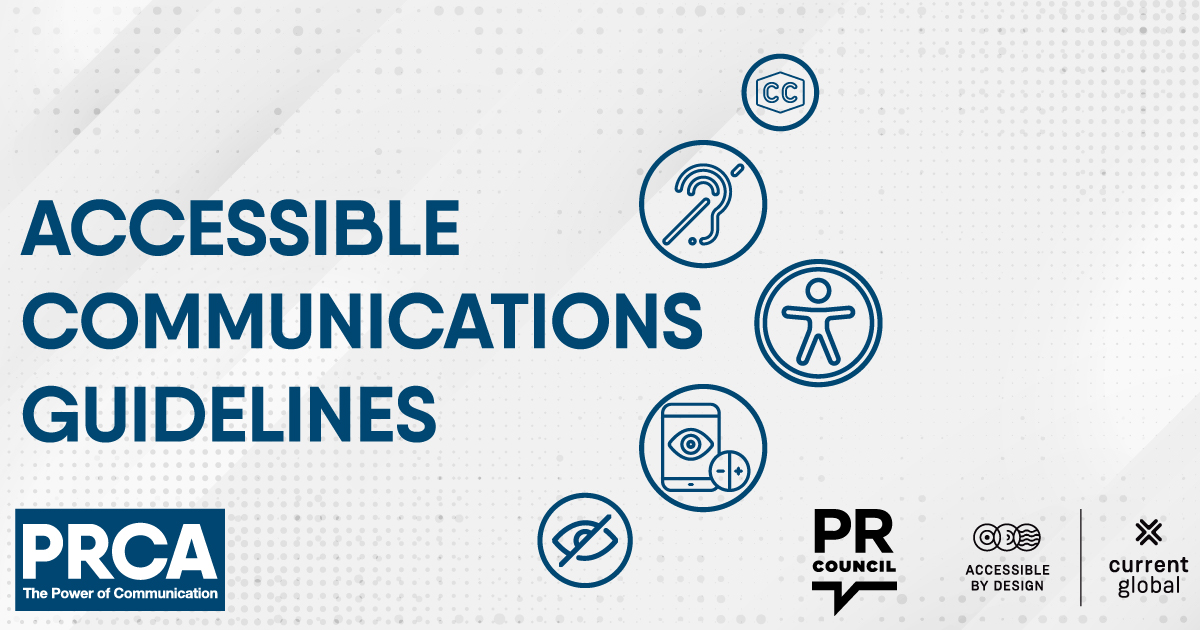 In partnership with Current Global, the Public Relations and Communications Association (PRCA) and the PR Council (PRC) are publishing new guidance –– to help PR and communications professionals deliver accessible content.
The 35-page guide is packed with practical tools, advice and case studies designed to help PR professionals ensure their content is available and accessible to people of all abilities.
The new guide follows research by Current Global, MAGNA and IPG Media Lab revealing 15% of the global population live with a disability. Crucially, the study reported 64% of those who use an assistive tool said they experienced issues accessing content.
Commenting on the launch, PRCA Director General and Chief Executive of ICCO, Francis Ingham MPRCA said:
"As professional communicators, it is incumbent on us to make communications inclusive for people of all abilities so we can reach every member of society.
"The technology and tools to help us do this are readily available, so the key priority is to update the way we work to adhere to best practices laid out in the guidelines."
Current Global, Co-Founder and CEO, George Coleman commented:
"Every day content is published that isn't accessible to all. It doesn't have to be this way. Over a billion people worldwide have some form of disability, a significant audience many are excluding. We have a moral duty to address this – and we hope the guidelines provide a practical starting point to instigate change to the way the industry works."
PRCA Diversity Network Chair, Sudha Singh CMPRCA said:
"The Accessibility guidelines are a step in the right direction as we strive to be more inclusive.  It is important that we afford people with different abilities the same chances to access media and information. I would like to congratulate the PRCA and George Coleman who has been personally invested in the project for sharing the guidelines with the industry and helping move the needle on inclusive communications."
Download the guidelines:
About Current Global
Current Global is part of IPG's (NYSE: IPG) DXTRA unit and its portfolio of public relations and communications firms. A midsized global agency with a full-service offering, our team of inquisitive, insightful, and imaginative people mix scientific rigor with creativity to get to the very core of how communications can drive outcomes. Our heritage is a deep understanding of earned media, but we are equally adept at developing integrated campaigns that encompass paid, owned, and social. Discover how we help clients Own the Moment at www.currentglobal.com.
About the PR Council
The PR Council is the only association dedicated to agencies with public relations offerings. PR Council Member agencies – 120 of the country's premier global, mid-size, regional and specialty firms – operate in the most sophisticated public relations market in the world, set the standard for excellence, and share a common desire to build the world's most successful agencies. For more information, see www.prcouncil.net and follow us on LinkedIn, Twitter, Instagram and Facebook.