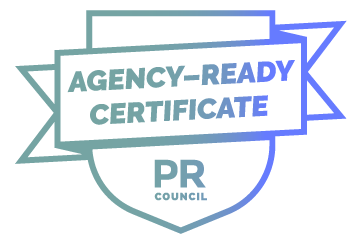 The PR Council (PRC) has opened registration for year two of the popular Agency-Ready Certificate program, which will begin on June 8th, 2021. Created in response to cancelled internships and delayed entry level hires during the pandemic, the program awarded certificates to nearly 2,000 young people last summer and PRC Member agencies have hired many of the certificate-earners.
"Our inaugural program won rave reviews from students and agency leaders alike," according to Heather Kernahan, PRC Board Chair and CEO, North America, Hotwire. "While the industry has returned to growth, offering internships and making hires, we committed to continuing the program to better equip the next generation of agency superstars."
The curriculum informs, educates and upskills a future talent pool so they are better prepared to enter the industry and hit the ground running. Through a proprietary career portal, students who complete the program are given hiring preference by the PRC's 120 Member agencies.
"We designed the program to be particularly informative to non-PR or Communications majors and also to provide real-world training and industry insights to those majoring in the field," said Kim Sample, PRC President. "Sessions include earned media, client service, and writing, which are always important to industry success. Students will also learn about integrated marketing, data and analytics, and the mandate for diverse and inclusive workforces, all of which is critical knowledge in successful agencies."
Ron Culp, Professional in Residence of Public Relations and Advertising in the College of Communication at| DePaul University commented about last year's program, "Students and recent graduates of our career-focused program take great pride in earning the Agency-Ready Certificate, some of whom even refer to it as a capstone confidence booster that solidly prepared them for the real world. Importantly, agency leaders noted this differentiating achievement as they made their entry-level hiring decisions."
College students, recent grads and others interested in learning more about the agency business can register here or contact ARCHelp@prcouncil.net for more information.
###
About the PR Council
The PR Council is the only association dedicated to agencies with public relations offerings. PR Council Member agencies – 120 of the country's premier global, mid-size, regional and specialty firms – operate in the most sophisticated public relations market in the world, set the standard for excellence, and share a common desire to build the world's most successful agencies. For more information, see www.prcouncil.net and follow us on LinkedIn, Twitter, Instagram and Facebook.
Media Contact
Andi Hughes, Vice President
Andi@prcouncil.net, 914.417.7687