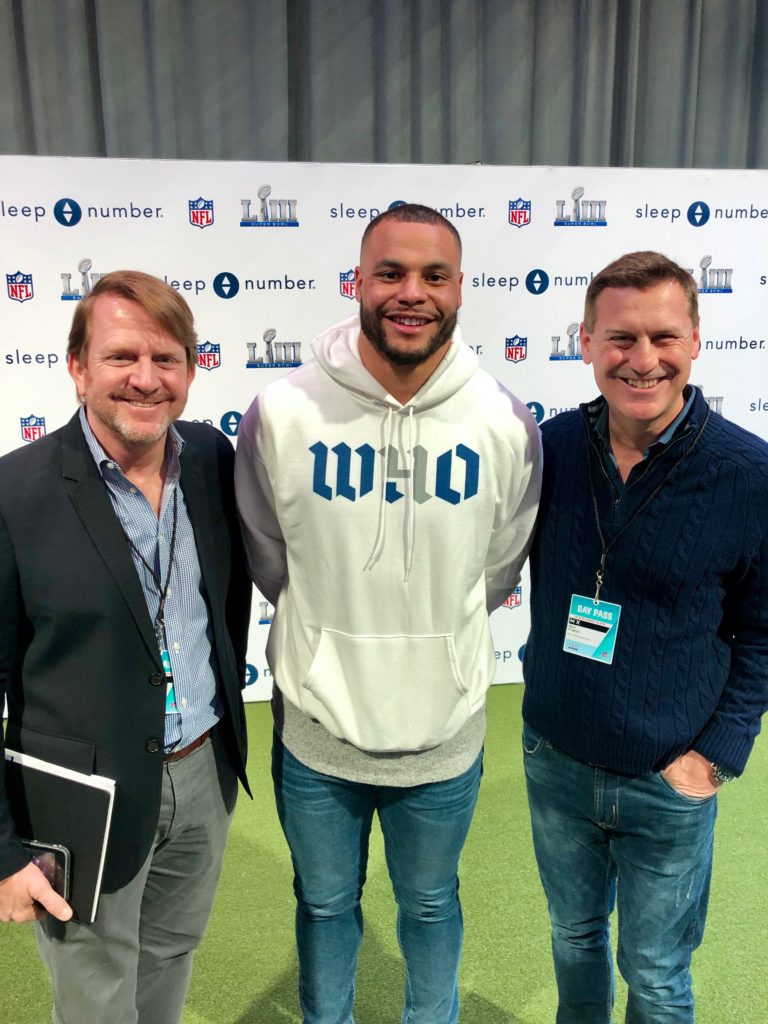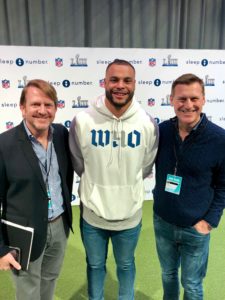 Whether or not you had a favorite team playing, you likely watched the game and/or the commercials last night. The Super Bowl is the world's most watched television event, so it makes sense that it is also one of the biggest brand marketing events of the year. For Rick French, this year marked his 17th consecutive Super Bowl. We talked to him to hear more about what went on in Atlanta.
 What has bought you and your FWV team to so many Super Bowls?
We represent athletes, agents including Leigh Steinberg who happens to represent NFL MVP Patrick Mahomes, associations and some of America's best-known consumer brands. While the Super Bowl is one of the world's premier sporting events, more importantly from a marketing standpoint is that it has become one of the biggest and most reliable opportunities to get a message out. FWV would be remiss if we didn't bring "big ideas" to our clients around the Super Bowl.
Do you still remember your first Super Bowl? What's changed and what is the same for marketers?
Personally, I have been involved with marketing and PR programs around the Super Bowl since Super Bowl XXX when Dallas beat Pittsburgh 27-17 in Tempe, AZ. Paying homage to the location, the week-long build-up celebrated the western heritage and we capitalized by arranging for our client, Wrangler, to underwrite a 200 mile pony express ride that would end with its endorsees — MLB great Nolan Ryan and legendary cowboy Ty Murray — delivering the game ball and coin into the stadium on horseback and handing both to game officials. That started Wrangler's two decades plus involvement in varying capacities with the big game. This year we sponsored the Pat McAfee broadcast from Top Golf in Atlanta where we held the Wrangler Celebrity Charity Shootout, with numerous athletes and celebrities participating. It provided us with great content to leverage on social media.
Reflecting on where the brand was 23 years ago, it was doing less than $1 billion in sales. Today it is many multiples of that figure and sports marketing has played a big role in the brand's growth.
What are some of the campaigns you're overseeing this year?
 In addition to the Wrangler program, we are here supporting our relationship with Leigh Steinberg and his many clients, including Mahomes. We are also coordinating Radio Row interviews for clients such as Certified Angus Beef and its endorsees, Atlanta legends Evander Holyfield, a four-time world heavy boxing champion, and Morten Anderson, Hall of Fame kicker. We are also working with NFL sponsor Sleep Number (teaming with fellow PRC member, Tunheim) and Dallas Cowboys QB Dak Prescott on a virtual reality quarterback challenge at the NFL Experience.
Why does FWV center so much activity at the Super Bowl?
Nearly every media outlet covers the event in some way and with good reason – the pre-game build-up dwarfs the game itself. This event – and the week leading up to it – has become a cultural touchpoint for this country and the world. It's an exciting slate for agencies and their clients. This week alone we coordinated over 300 interviews on behalf of our clients with some of the biggest media outlets in the world.
With all of the controversy and commentary about race relations and concussions, are you seeing any declining interest in the Super Bowl?
Not at all. Media coverage is up. Brand activations are up. Ad spending is up. Criticism of the NFL isn't tamping down the enthusiasm for the big day. While attendance at and viewership for the NFL might be down, this is the most watched TV event in the world.
We've heard a lot about the NFL's growing female viewership and the media coverage leading up to this year's Super Bowl highlighted the number of campaigns targeting women.  Having been on the ground all week, what trends did you see?
I walked into one of the NFL shops on-site in Atlanta, and there were more products there for women than men. I think that says quite a bit. Overall, many marketers are targeting women because they make up such a large segment of the viewing audience. This is also a great platform for a brand to talk about its social values